The breathlessly stupid arguments defending Jamie Carragher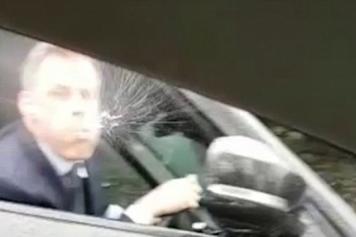 13 March at 11:40
There exists a not-so-dark corner of the internet where many people spent Monday defending Jamie Carragher against a possible sacking by Sky Sports.
If you haven't heard by now, the TV commentator was caught on video spitting a somewhat impressive volume of saliva at a heckler while driving. Immediately afterwards, in the video, we hear the cameraman's daughter complain that Carragher hit her with it.
Upon the video's release, the content of which is as disgusting and vile as it sounds, calls for Carragher to either resign or face a sacking by Sky Sports – where he is employed as a commentator – began in earnest.
Surprisingly, however, so too did a large and vocal defense of Carragher.
Dion Fanning penned an article for a sports website known as SportsJoe.ie in which
he argued that Carragher deserves a measured and light response from Sky Sports
. After reading the article twice, I have come away with the impression that Fanning's defense of Carragher is twofold.
First, he points out that Carragher apologized. Fanning wants you to know that Carragher apologized a lot. "
Carragher has spent the time since the story broke in a whirlwind of apologies which never seemed less than genuine. He apologised to the family who he had spat at from his car following the United-Liverpool game on Saturday, but still some are calling for him to be dismissed from Sky Sports because of the incident
."
Secondly, he argues that retroactive punishment serves no purpose. No, seriously, read this line: "
He has made a mistake, but nobody except the rising army of the bland would benefit from his dismissal
."
It's as if Fanning lives in an alternate universe where punishment must be doled out on the spot, lest it serve no purpose. If Sky Sports is unable to punish him a day after his video became public due to Fanning's self-implemented statute of limitations, I don't think that would leave any room for punishment for any actions.
Going back to the first point, Fanning really wants you to know that Carragher apologized a lot. He continued: "
On Monday, Carragher went on Sky News and spoke emotionally about what he had done. But there was a media encounter which was even more revealing when he had arrived at Euston station earlier that day.

Many people would have said nothing to the waiting reporters for a few reasons. They would have been advised by their representatives to stay silent after the initial apology. They would have been aware, too, that Sky might prefer if the first words came on their network and, finally, they would have noticed that this is what people of a certain stature do…

Instead Carragher answered questions and spoke openly about his regret. He may be trying to salvage his career with Sky, but there was something else on display."
So, to recap…Carragher is really sorry, guys.
Other people have claimed that the motorist who videoed the incident is at fault. Yes, he was clearly goading Carragher and driving dangerously. He seems like anything but an innocent bystander.
Not every story has to have a good character. This is an example of one where there's no one to root for.
However, I'd like to posit that Carragher needs to be fired. My main argument is (and I cant believe I have to explain this) that people should be held accountable for their actions.
Putting aside the absolutely horrific end result of Carragher's spit ending up on a little girl's face, it should be noted that spitting on someone else isn't only one of the most disgusting things you can do, it's incredibly dangerous. Did you know virus and bacteria live in your saliva?!?! Yea, I bet you did, but apparently some folks need to be reminded.
I wonder if the calls for his salvation stem from a de-sensitized society in which the President of the United States openly talks about grabbing pussies without repercussions, and where the #MeToo movement has publicly unveiled truly horrific and unforgivable behavior from people we've looked up to and others we've worked with, and for.
Perhaps a video of someone spitting on someone else doesn't seem so grotesque to certain people anymore. Perhaps those people are tired of seeing other heroes of theirs have their careers rightfully ruined for behavior off-screen.
If you want to make an argument that 'mob mentality' has gotten out of hand when it comes to demanding punishments too severe for the actions in question, that's fine. However, doing it while defending someone who was videoed spitting on another person is not a proper hill to die on.