The Italian federation have seemingly had contacts with Ancelotti, the latest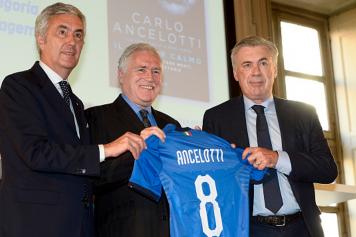 14 November at 22:50
Italy drew Sweden last night at the San Siro (0-0) as they were eliminated from the 2018 World Cup. The last time Italy failed to make a World Cup? 1958. This was also Gigi Buffon, Andrea Barzagli and Daniele De Rossi's last games for the national side (as Chiellini might also follow them into retirement as well). It was really a sour night for all of Italy as the Italian people are now ready to look forward to the future. Gianpiero Ventura has been heavily criticised as he will likely be let go soon. Who can they get to eventually replace him? There have been many different names out there: Allegri, Ancelotti, Conte, Di Baggio, Mancini and others... .
THEY HAVE REACHED OUT TO ANCELOTTI - According to
Goalitalia's Romeo Agresti
, Italy have had contacts with Carlo Ancelotti as he might very well be their number 1 choice. He is currently without a club as this might be the right time for him to coach the national team. Still according to
Romeo Agresti,
Ancelotti will seemingly think about it before then handing them a decision.
Tomorrow will be a big day for Italian football as there will be many important meetings that will take place. Other than Ventura, Tavecchio's position is also in doubt...
Jean-Luca Mascaro (@CalcioNews89)