The nightmare is over for Conti: full match, assist and good performance against Empoli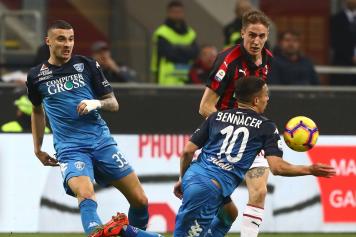 23 February at 15:15
Andrea Conti is back for AC Milan. Before he played in short sequences of the match, registered a fine assist against Sampdoria in the Coppa Italia but now the right-back is fully fit and ready to contribute for 90 minutes. A year and a half after getting injured for the first time, he took the field against Empoli yesterday and showed off a fine performance in front of a packed San Siro.
After a nightmare run of many injuries in a row, nobody really knew what to expect from the former Atalanta man. A more cautious and defensive approach? Quite the opposite.
As noticed by
Gazzetta dello Sport,
the fullback did very well on the overlap and in the offensive phase as well as in terms of tackling. He made a few mistakes in the defensive phase, however, none of these had an important effect on the match.
And the cherry on the top was Milan's last goal, with Conti assisting Samu Castillejo with a great low cross to the near post. Gennaro Gattuso can now count on another weapon on the right flank. Perhaps there is still something missing to his brilliant Atalanta days but it is just a matter of time.