The Sarri, Conte, Ancelotti triangle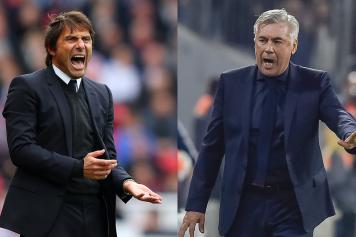 05 June at 21:38
Back when Maurizio Sarri decided to give up his successful career as a bank employee to fully pursue his dream of being a football manager, it was hard to envision that he would eventually find himself in a triangle involving Carlo Ancelotti and Antonio Conte. In 1999 Sarri quit his job at the Banca Toscana so he could focus more of his attention on coaching Tegoleto in an Italian semi pro league, at that time Ancelotti was managing Antonio Conte at Juventus- their journeys to today's predicament have been quite different to say the least.
Let's start with Sarri's successor at Napoli, to say that Ancelotti didn't fit at Juventus is being generous, as a matter of fact he's time in Turin is often remembered because some bianconeri fans use to mock his physical appearance by saying "un maiale non puo' allenare" (a pig isn't able to manage), but it eventually led him to return to Milan, where he had previously played, where he won two Champions League and made a huge name for himself as a manager. While they didn't succeed during their time together in Turin, Conte and Ancelotti developed a strong bond. The now Chelsea coach was energized by Ancelotti's arrival, and had one of his best seasons as a player for him- and eventually he would find himself following in his footsteps as a successful manager (Conte has listed Ancelotti as one of his inspirations along with Lippi and surprise surprise Van Gaal) winning titles at Juventus, Chelsea and leading Italy to a deep run in the Euro that now looks even more impressive.
While Conte and Ancelotti's resumes feature many trophies and time spent with top clubs, Sarri had to establish himself by managing teams like Sansovino, Valderna and Sangiovannesse (if you've never heard of them before this article, don't worry that would make at least two of us). But after finally making it to Serie A in 2012 with Empoli, Maurizio Sarri has been able to make a leap as manager to the point that he's mentioned in the same breath as two institutions like Conte and Ancelotti.
As a matter of fact Carletto is now his successor at Napoli and many Chelsea fans are completely intrigued by the idea of going from Conte's culture of "winning through suffering" to the beautiful football we associate with Sarri Ball. On the surface it should look easy and straight forward. You can make a case Conte has almost dared Chelsea to sack him, Napoli announced that Ancelotti would be their next manager and Sarri is looking for a new team- but as with many things involving Italian football and stubborn people, fitting the pieces of the puzzle isn't quite that simple. At the center of the triangle involving these three managers, you'll find two clauses- Conte's buyout and Sarri's exit clause.
While Federico Pastorello isn't as flashy and boisterous as Mino Raiola, or as famous as Jorge Mendes, he's been a top agent for quite some time- but what he pulled off for his client Antonio Conte last year maybe his finest hour. Inserting a buy out clause worth around 20 million euro in Conte's contract is the underrated subplot in the situation, and when you consider Conte' stubbornness (and fact there aren't many jobs if any that make sense for him at moment) you shouldn't expect a discount on the amount.
Up until last week, Sarri had his own exit clause which further complicates the situation- and just because I used the past tense, it doesn't mean that it isn't a factor. The easiest way for any club to hire Sarri was to spend the 8 million to exercise the clause by end of May, now that the deadline has passed Sarri finds himself under contract with Napoli, and they see him as an asset they want to compensated for- and this is where it gets confusing for many people, especially those who aren't that familiar with Serie A. Just because Napoli has chosen Ancelotti as their next manager, doesn't mean they got rid of Sarri.
I know this is a bit counterintuitive (I've had many tweet me, "how could Napoli have two managers?") so let's use a real life example. At the beginning of the 2016/17 Ivan Juric was Genoa's manager, in the second half of the season, the club decided to replace him with Andrea Mandorlini- but things actually got worse, so Juric was brought back to finish the season (he has since been replaced by Ballardini). Now the odds of Napoli sacking Ancelotti and bringing Sarri back are as good as my chances with Beyonce', but there's a big difference between getting sacked and having your contract rescinded.
It has been reported that Chelsea wasn't interested in paying Sarri's exit clause (especially on top of buying out Conte) and their hope is that Sarri will be able to negotiate with Napoli so that they release him of his contract. Considering all the complications and expenses of addressing Sarri and Conte's situation, it shouldn't be surprising to see Chelsea looking at other candidates including Laurent Blanc, Luis Enrique and one of their former players Slavisa Jokanovic who made a name for himself managing Fulham (interestingly his profile is fairly similar to Conte's when Juventus hired him). So while the odds that Maurizio Sarri will replace Antonio Conte have diminished since his exit clause expired, when you consider his background, he must be very flattered just to be in this conversation. It will also be interesting to see if Carlo Ancelotti will be able to take Napoli further than a former bank employee of the Banca Toscana…
David Amoyal