The Sniper: Carlos Bacca turns 9 chances into 6 goals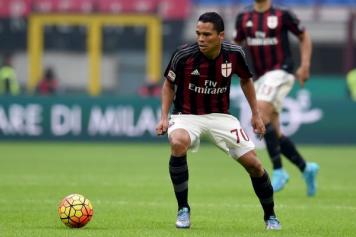 02 November at 10:30
AC Milan fans can breathe a sigh of relief: from looking a mess a month ago, the
Rossoneri
have gone on to earn three wins on the trot, improve their defence and create a more dynamic midfield.
What hasn't changed, however, is just how lethal Colombian striker Carlos Bacca is. Relatively overlooked when the
Diavolo
was struggling, the 29-year-old is now the centre of the attention again after adding Milan's third in their masterful 3-1 rout of Lazio.
El Peluca
's 30 million move from Europa League champions Sevilla looks more inspired than ever: not only does Bacca participiate in the build-up, he is also lethal when chances are scarce. Our stars show that of the 9 shots on target he's had... he's converted six of them.
Federico Albrizio (@Albri_Fede90), translated by Edo Dalmonte, @edodalmonte