Thirsty Thursday: Ventura has his mind on something other than soccer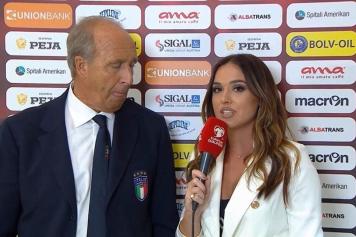 12 October at 13:59
Italy, amidst a rocky World Cup qualification cycle, have one last hurdle to climb to reach Russia next summer. Next week, Italians will find out who their opponent will be in the two-legged playoff for the last qualification spot.
Since he was appointed after the 2016 European Championships, Gian Piero Ventura has faced constant criticism in the media and among fans. Following in Antonio Conte's footsteps is never an easy task, but, despite his doubters, he appears poised to manage those two matches.
One aspect about Ventura no one can dispute is his fondness of female interviewers. Check out this picture of him after Italy's 1-0 victory over Albania this week. I think we know how he wanted to celebrate.
Seriously though, someone get this guy a drink…he's damn thirsty!
Sento il cuore che mi rimbalza in bocca e tu
Con un body a balconcino che ti tiene su
Un seno che così non si era mai visto prima pic.twitter.com/EskA1KLNHO

— 883 raccontano la A (@883raccontano) October 12, 2017