Thirty years after Sacchi's Milan...who is his heir?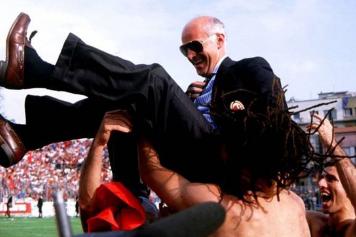 23 August at 20:20
CM.com's Andrea Distaso discusses a moment in time, thirty years ago, when Milan faced Bari in the Coppa Italia. Milan's coach was Arrigo Sacchi, a man who would go on to rewrite the rules of the game. He was born to invent and export a type of football that did not reflect the traditional characteristics of the 'Italian game', eventually taking over the Rossoneri club's philosophy and spreading all over Italy. In Serie A as in the Champions League, the categorical imperative was to impose its own philosophy of play at home as well as away. Going to Europe's biggest stadiums yet still imposing their will, perhaps pulling a draw off with a strenuous defensive strength.
It's a crazy idea to win through a dominating the play, but it was made possible by the massive investments by Silvio Berlusconi, in addition the presence of 'Gregari' like Mussi, Angelo Colombo, Virdis or Massaro to supplement the amazing phenomena such as Tassotti, Baresi, Maldini, Ancelotti, Donadoni, Gullit and van Basten. 30 years ago the epic of the great Milan was born, but today what has remained of that experience? Many believe there are many nuances of Sacchi's style in Maurizio Sarri and even Montella, but we are still thirty years away from knowing if they will have the same lasting effect...