This is why Sarri needs to change Napoli's formation, especially in Champions League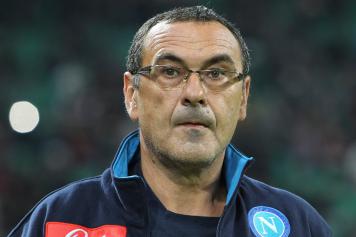 15 September at 20:05
CM.com's Andrea Distaso discusses the questions surrounding Napoli and Sarri after a disappointing Champions League loss to Shakhtar Donetsk. Even during the post match, the Napoli tactician pointed to the misguided attitude of the team at the start of the match, in line with how they entered the first half against Atalanta and in the last league game against Bologna. It was a recharged Napoli, unconsciously satisfied after having passed the Champions League playoff against Nice. Now, according to the Tuscan coach, players have lost the proper mentality.
CALLEJON'S ALARM - It's too early to say that the Napoli machine is failing, but it's curious that one of the most important and representative players like Callejon has come up with a strong and clear tactical alert. "By now opponents know how we play." A series of tight passes among the three central midfielders, who are often the brightest lights in the Partenopei side, coupled with the cutting runs of Callejon and Insigne on the wings. It's an effective strategy when it works, but rivals have begun to work and study the necessary countermeasures. In his third year on the Napoli bench, Sarri is ready to evaluate alternatives to make his football less predictable and to give brilliance and enthusiasm to the club
MILIK DETERMINED - The idea behind a change in formation is that it more appropriately uses Arkadiusz Milik to his maximum potential, playing as the lone central forward. On one hand, he gives Napoli more of an attacking reference point than Mertens, who in a different formation, can be relied upon more to create space and introduce other strikers and midfielders into the attacking phase. In this sense, a switch from a 4-3-3 to a 4-2-3-1 would facilitate this opportunity. Most importantly though, among the wealth of talent in the center midfield, Sarri would have to choose among his many playmakers, from Jorginho to Diawara to Zielinski to Allan to Hamsik to fill only two midfield positions. Or perhaps Hamsik could push into more of an attacking midfield role. Nonetheless, it is becoming more and more apparent. Sarri and Napoli need to change to remain unpredictable.