This week's best Champions League performance wasn't even on TV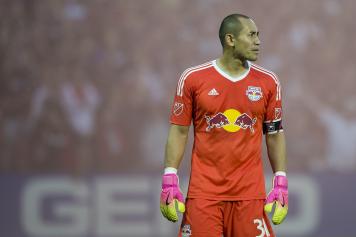 08 March at 15:00
Despite the thrilling Juventus victory over Tottenham, and the dismantling of Paris Saint-Germain by Real Madrid, this week's best Champions League performance came in a match that wasn't even televised.
The New York Red Bulls took a giant step towards the CONCACAF Champions League semifinals with a rare MLS victory in Mexico on Tuesday night, downing Club Tijuana at Estadio Caliente 0-2 in first leg of their quarterfinal matchup.
The squad, however, still has a long way to go before celebrating an aggregate victory, but they played the first leg to perfection. Bradley Wright-Phillips, the club's all-time leading scorer, netted a brace and goalkeeper Luis Robles recorded a record 13 saves. 
The MLS side now returns to Harrison, New Jersey with two vital away goals and a precious clean sheet. It marked only the third time in history that an MLS club defeated a Mexican side on Mexican soil.
Unsurprisingly Robles was awarded Man of the Match honors for his brilliant performance in goal for the Red Bulls.
Amazingly, on Wednesday night, two other MLS sides (Seattle Sounders and Toronto FC) also beat Mexican clubs, including Liga MX champions Tigres, albeit on American and Canadian soil.