Three reasons why Man United should've signed Dries Mertens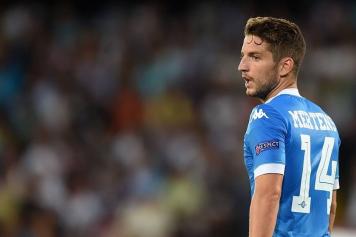 21 September at 18:25
When Napoli signed Dries Mertens from PSV for € 9.5 million in 2013, few could have predicted his ascension to the elite forward he has become.
Now, four years and 75 goals later, he has signed an extension with the Italian side which includes a € 30 million release clause.
However, there was a real possibility that he could have been wearing the Manchester United crest this year. Last summer, representatives of the player and Old Trafford met to discuss the forward's future after Napoli failed to clinch an automatic Champions League spot. Unfortunately for the Red Devils, an agreement could not be reached and remains a key to Napoli's success. Here are three reasons why Jose Mourinho made a mistake by not bringing the Belgian to England:
1.
His diminutive stature of 5'6 "(1.69m) would have been a perfect compliment to Romelu Lukaku's large physical presence. Although Lukaku is quick and agile, many opponents view him as a target striker due to his 6'3 "(1.93m) 200lb (94kg) frame, and defend him as such. Mertens would have been able to find lots of open space in Manchester with defenders draped on Lukaku.
2.
It is likely that the decision was made to bring Lukaku to Old Trafford instead of Mertens, but that was fraught with risks. At just 24 years old, Lukaku is still incredibly young and may not be able to mentor 19 year old phenom Marcus Rashford. Without Ibrahimovic healthy, Mourinho is relying on young strikers to lead his attack. Someone with Mertens' experience, at 30 years-old, may have been a better option to offset any concerns about age and inexperience.
3.
Mertens is a versatile attacker and has had experience on Napoli's wing. Mourinho missed an opportunity to pair his speed and agility with Rashford's on each wing. With the pace those two players bring, United could have stretched opponents' defenses early and often. It's known that Mourinho tried and failed to bring Mertens' Serie A rival Ivan Perisic to Old Trafford, but failed to do so. It's clear that he had his sights set on adding a winger, and Mertens would probably fit that role very well in England. In addition to his talents, Mertens would have brought camaraderie to the dressing room, as both Lukaku and Marouane Fellaini are also Belgian.
Only time will tell if Mourinho's decision to not sign Mertens was the right one. But, based on Mertens' early return this season (in five appearances he's tallied six goals and one assist)
Manchester United fans will soon be rueing the transfer that did not happen.
Matthew Klimberg