Throwback to when Roberto Mancini allegedly labeled a journalist as 'fa**ot'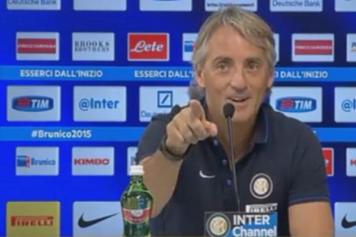 21 January at 20:10
Roberto Mancini and Maurizio Sarri are hitting the headlines after that the latter allegedly
called his Inter counterpart ' a fa**ot'
during Napoli v Inter Coppa Italia tie on Tuesday night.
Sarri has been banned for two Coppa Italia games
after that Mancini had denounced him at the end of the game, but the former Man City manager also used a homophobic slur on a journalist during his time as Fiorentina manager,
Firenzeviola
and
La Gazzetta dello Sport
report.
According to the
'Rosea'
, Mancini called the
Gazzetta dello Sport
's journalist
Alessio Da Ronch
'fa**ot' during a private meeting held at the end of a press conference during the 2001-2002 campaign, when Mancini was in charge of
La Viola
.
Mancini had just read an article by Da Ronch in which the Italian journalist was reporting on then-Firentina midfielder Leandro Amaral's unauthorized Christmas trip to Brazil.
"When Alessio [Da Ronch] was about to exit the conversation, Mancini shouted 'f***ing fa**ot' at him, provoking the journalist's reaction",
La Gazzetta
reports.
"Mancini and Da Ronch were split up by another journalist and Fiorentina's press officer who were passing by the scene."
Mancini, by the way, has denied that he has ever labeled anyone as 'fa**ot' through his official website.
"What I said after the Napoli game is simply in line with me and my culture. I don't want everyone to share my way of being in football, but I want to be respected"
, the message reads.
"I'd like to put an end to this story and all these speculations that are coming with it. I have never labeled anyone in 'that way' because it has never been part of my language."

"I am very upset, but I want everyone to focus on Inter's next games and on the rest of the season."

Lorenzo Bettoni @lorebetto