Best & Worst Case Scenarios for Nainggolan Deal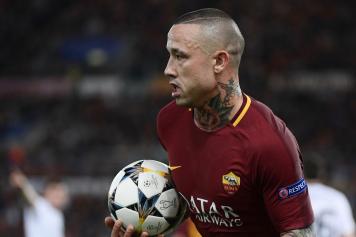 26 June at 12:40
While there are two sides to every story, one thing all fans of Serie A teams should agree on, is that the league as a whole is better with Radja Nainggolan in it.
Despite not making Belgium's World Cup squad, he's established himself as one of the best midfielders in Europe as demonstrated by the quality of his performances, and more objectively, by the caliber of the clubs who have pursued him since he joined Roma. On top of that, he's also one of the league's most colorful characters and he generates numerous storylines for those who cover Calcio.
However, that type of thinking is a bit harder to digest for Roma fans this week, since they'll now see their most significant player since Francesco Totti, joining a direct competitor in Serie A- it certainly would have been much easier to digest his departure, had the Ninja taken his talents to the Premier League, and probably even better to China, where he would have become almost an afterthought. But maybe the deal was inevitable and might to turn out to better for the giallorossi than expected, with that in mind let's look at the best and worst case scenario for Inter and Roma…
Best Case Scenario for Inter: after being reunited with Luciano Spalletti, the Ninja could rediscover his form from the 2016/17 season when he scored 14 goals in all competitions. Nainggolan has the potential to bring to Inter's midfield what Icardi provides to the attack and what Skriniar does for the backline, especially when you consider that his characteristics on paper would compliment Brozovic and Gagliardini rather well (although it's not out of the question Inter sign another starting caliber player like Carvalho or Dembele').
​
While Nainggolan will have no future resale value (although it's not out of the question he's sold to Inter's owners' Chinese club Suning for a significant accounting profit), should the Belgian international get back to his old ways, his transfer fee will look like a bargain. While there's uncertainty on how Nainggolan will perform, his arrival is a statement signing.
The Nerazzurri have been operating well on the transfer market despite having to operate within Financial Fair Play guidelines, but landing a player who had been linked to numerous Premier League teams in recent years is an undeniable show of strength.

Worse Case Scenario for Roma: last season the Giallorossi finished the season with five more points than Inter, and while Nainggolan was an odd fit for Di Francesco and started to show his age, there's a good chance the Ninja will be able to help bridge that gap in points playing for Spalletti.

Monchi has already received a lot of criticism for the Nainggolan deal, so he needs to keep his fingers crossed that Lorenzo Pellegrini takes a step forward, that Cristante doesn't prove to be another example of Gasperini/Atalanta fool's gold and that Coric doesn't turn into a bust

Worst Case Scenario for Inter: you could chalk up the fact that Nainggolan had his worst season at Roma because he was an odd fit in Di Francesco, or you could point to the fact it should be no surprise his specific skill set is declining now that he hit 30, and you could argue Nainggolan is an "old" thirty because of his lifestyle off the pitch.

I'm assuming Monchi is banking on the latter being true, and there's certainly some logic to this. If you go to Nainggolan's Wikipedia page, the Italian version describes him as a dynamic, gritty midfielder who has good pace and physical strength- these are all attributes that are prone to decline with age.

While the nerazzurri have historically never shied away from signing players with character issues and Nainggolan certainly fits the "Pazza Inter" image, we could have some pretty monumental Instagram stories featuring the Ninja and Epic Brozo. However, all things considered, there's too much upside for this deal for Inter to pass it up, but saying it comes without any risk is probably a bit too optimistic.

Best Case Scenario for Roma: in addition to Nainggolan potentially not living up to expectations at Inter, there's also the possibility that Nicolo' Zaniolo could fulfill his potential. The 19-year-old midfielder is coming off a great season for Inter's Primavera, and after being dropped by Fiorentina's youth system back in 2016, he's once again considered as one of the best Italian prospects under 20.

While Davide Santon was essentially a throw in the deal to give Inter some relief with their Financial Fair Play parameters (kind of how an NBA player is thrown into a trade to make it work under the salary cap), we'll have to judge the Nainggolan to Inter deal also based on how well Javier Pastore performs for Di Francesco- on paper he would seem to be a better fit in Roma's system than the Ninja.
David Amoyal (@DavidAmoyal)