Totti : 'I will be a Roma director'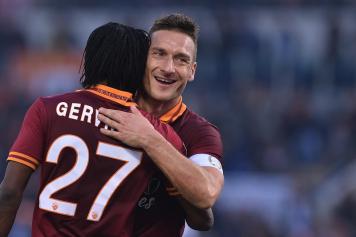 17 July at 20:05
Francesco Totti revealed his future in an interview with
Roma TV
, here is what he had to say: " I will join Roma now let's see what kind of director role I will have. May 28th was an important day for me since it was my last game as a professional player. I will cherish the memories forever. It is difficult to explain the emotions I felt that day but my playing career is over as I have a new director career ahead of me. I hope to do as well...".
NEW LIFE - " For me, football is everything. To play with friends, to score goals and to have fun.... that's football for you. I didn't want that last day to ever end since it had been 25 years that I was a footballer. I was always very serious about my playing career. With my experience, I am sure that I will now be able to help Roma as a director too".
Roma will be looking to have a solid season in 2017-18 but they will have to do without a few key players since they sold Salah, Rudiger and Paredes, other than coach Spalletti who joined Inter. The team will now be coached by Di Francesco as he will certainly be hoping for some reinforcements...