Totti to become director at Roma, 'With Pallotta, everything is ok'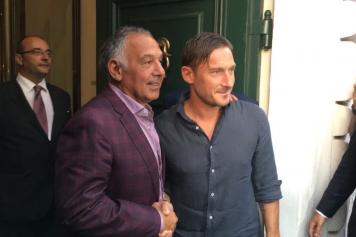 13 July at 22:55
Francesco Totti met the Giallorosso president and from August will begin his new career as a director of Roma. His role will be halfway between Monchi and Di Francesco, who both wanted the legendary #10 at their sides at all costs.
At the end of the summit between the former captain and the executive, held at Trigoria, Totti met the president. Pallotta, who had defined Totti's role as "something between me and him," admitted and stated that he often heard that the player would perhaps continue playing elsewhere.
And though it may be true that the temptations to continue playing for another season were strong for Francesco until the last minute. But in the end the white smoke arrived, and the handshake between Pallotta and Totti marks the new agreement. We will see Francesco Totti in a leading role, alongside Monchi and Eusebio Di Francesco, who strongly wanted him to drive this Roma club forward into their new stadium.
adapted and translated by David Baleno (@davidbaleno)