Transfer News: Juventus duel AC Milan for PSG and Arsenal stars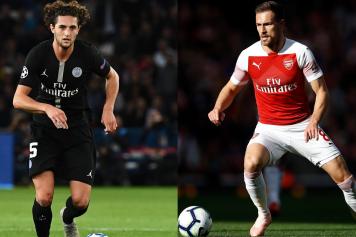 10 November at 18:30
AC Milan-Juventus is not only a clash on the pitch, which will take place tomorrow in front of a filled San Siro, but it is also a battle on the transfer market, where, historically, both teams share and have shared many objectives throughout time. And this is also the case now.
As reported by
Tuttosport,
both clubs are following two interesting players whose contracts with their respective clubs expire at the end of the season - Adrien Rabiot from Paris Saint-Germain and Aaron Ramsey from Arsenal.
Ramsey is almost certain not to renew and leave the Emirates Stadium, while contacts between Rabiot's entourage and the French club are still ongoing, despite the midfielder refusing numerous renewal options before. The player's agent-mother reportedly has a good relationship with Milan director Leonardo, which could perhaps push the player to the
Rossoneri.
But for now, nothing is decided, as both players are followed by many clubs around Europe, including Liverpool, Barcelona and many more. However, from January, Ramsey and Rabiot will be free to negotiate and strike a deal with any club.