Tweet sparks women's soccer sexism row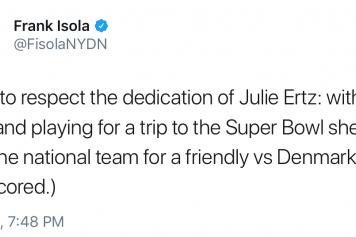 22 January at 22:00
As we showed earlier
, United States Women's National Team midfielder Julie Ertz and her husband, Philadelphia Eagles player Zach Ertz, both had matches at the same time on Sunday night. Of course, as with many instances involving womens soccer, this gave rise to a sexism row.
Mrs. Ertz scored in the USWNT's friendly against Denmark, while Mr. Ertz didn't score in his teams playoff victory.
Popular American sports journalist Frank Isola seemed surprised that she was willing to go to work despite her husband's important day at his job.
Properly, his tweet was met with considerable pushback by many upset fans, male and female.
See the tweet below (screenshot, because he'll probably delete it), and click the link to see some of the best responses.