UCL draw: toughest opponents Juve, Napoli and Roma can face in group stage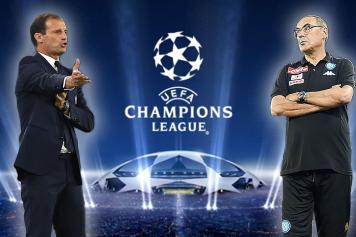 24 August at 15:35
Today's Champions League draw in Nyon is going to be one of the toughest ever in the history of the tournament. Not only three Italian teams have finally managed to qualify for the group stage of Europe's elite tournament, but the Premier League clubs can rely on five clubs which will take part to this edition of the tournament.
Juventus are in tier one, the 'tier of Champions' which includes the winners of the best European championships plus the winner of last year's Champions League.
The Old Lady will then face clubs taken from tiers 2,3 and 4.
Roma and Napoli are in tier three and they will face clubs from tier 1,2 and 4. No two teams from the same country can be drawn together, while teams from the same country also need to be spread out across the schedule so they're not overloaded onto one day and absent from another.
Check out our gallery to know the toughest opponents Serie A clubs could face in the group stage