Underestimated Allegri continues to work wonders at Juventus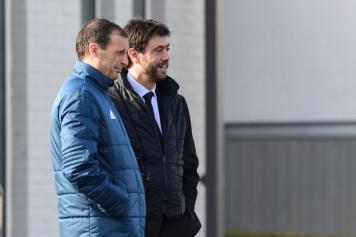 01 March at 20:00
Juventus' decision to hire Massimiliano Allegri as coach after Antonio Conte walked out on them during the summer of 2014 was met with a mixture of scepticism and anger from fans and journalists alike. In that moment, very few would have predicted the success the Tuscan tactician has enjoyed during his time in Turin. Not only has he continued the excellent work done by his predecessor, he has made Juve a force to be reckoned with in Europe and has struck almost the perfect balance in terms of the team's playing style.
Last night's 1-0 victory over Atalanta ensured that the Bianconeri will compete in their fourth consecutive Coppa Italia final under Allegri's guidance. Having also reached the UEFA Champions League final twice since the season he took over, the former AC Milan boss has now led his side to six finals in just seven knockout competitions. That is an astonishing record by anyone's standards. He may not play the same brand of attractive football as Pep Guardiola or indulge in media spats with fellow coaches, but it is high time the 50-year-old was given the plaudits his work deserves.
Indeed, Allegri deserves a lot of credit for having the foresight to deploy Alex Sandro in a wide attacking role against La Dea yesterday. Not only was that one of very few options available to him given the team's current injury predicament but it also helped nullify a Gian Piero Gasperini side which is notoriously strong on the flanks. There is no doubt that was a crucial part of the coach's thinking regardless of the fact Juan Cuadrado, Federico Bernardeschi and Gonzalo Higuaín were all out of the picture.
While fans and critics may seem reluctant to heap the same praise on Allegri as they do many of his contemporaries, one thing is for sure: it would take a brave person to bet against La Vecchia Signora doing a job on Tottenham Hotspur at Wembley and possibly even going all the way to yet another cup final. One begins to feel it may even require a victory in said match to draw attention to the fact he is undoubtedly one of the great tacticians of the modern era.
Jordan Russell (@JordRuss96)