UPDATE: Napoli still after Soriano, Kramer, Gomes... and a Red Devil!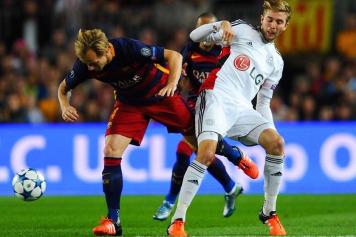 22 April at 13:07
Cristiano Giuntoli has big plans for Napoli's midfield. With the Partenopei already spending in the January window, it is apparent that both their director of sport and owner Aurelio De Laurentiis want to add a few promising youngsters.

The first name on ADL's list is Valencia prospect Andrè Gomes. Giuntoli has spoken to a number of intermediaries and agent Jorge Mendes on many occasions, as Gomes does not belong to Los Che, but to a third party. The problem, however, is that the 22-year-old was already highly sought-after in January, and may have scared suitors off with his price.

Whilst his arrival at the San Paolo is a major doubt, names like Christoph Kramer and Ander Herrera are also being pursued.

Giuntoli's predecessor, Bigon, had come close to the 25-year-old German last season. Kramer, known for sustatining a concussion in the 2014 World Cup Final and consequently forgetting where he was, would be the perfect fit for Naples, both in terms of age and skills.

There's more: Napoli have kept up contact with Sampdoria and Lazio, with presidents De Laurentiis, Ferrero (Samp) and Lotito (Lazio) meeting in Milan last winter. Remember how Napoli had pursued Roberto Soriano last summer? They're still in the hunt, though they'll have to cough up both the 15 million required by his release clause, and convince the German-born Italian that Naples really is the destination for him.
M.S., translated by Edo Dalmonte (@EdoDalmonte)