VAR controversies: Italian papers hit out at ref of Inter-Parma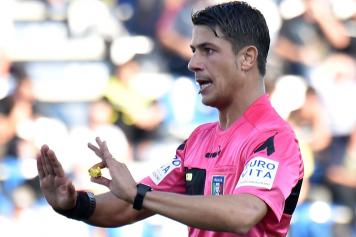 16 September at 11:26
Inter Milan's shock defeat at the hands of Parma has been in the news for the wrong reasons.
The San Siro side were denied a clear penalty by the ref Gianluca Manganiello
while their opponents were awarded the goal that should have been rule dout. The media and fans are questioning what VAR is doing if it is not able to overturn such dubious decisions.
There were several instances of a dirty tackle as well but the referee failed to send the Parma players off. Some extracts from the media:
Tuttosport 4:
A penalty was clearly denied for Inter despite Dimarco's hand-ball in the box. The referee and VAR also ignored the dirty tackle by Gagliardini on Di Gaudio and then only gave a yellow card to Stulac for hjis lunge on Gagliardini. Both should have seen red but they played the full game. Also, Dimarco's goal should have been ruled out as Rigoni was offside and in the line of Handanovic. Honestly, it was difficult to do worse... But where was the VAR (with Rocchi at the helm) yesterday?
Corriere dello Sport 4.5:
The refereeing was full of doubts and errors. The VAR management is also bad.
Gazzetta dello Sport 4,5:
Dimarco's hand-ball was ignored and Rocchi hurt Inter a lot. Before that, he had not even ackowledge a foul on Gagliardini. And then he does not see that a Parma player blocked Handanovic 's view of Dimarco's shot.