VAR must be introduced in UCL but referees did not eliminate Juventus and Roma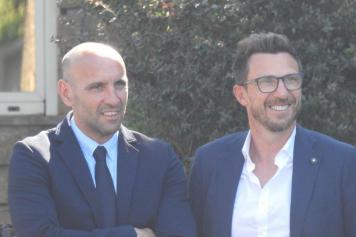 03 May at 12:45
In the aftermath of last night's controversial Champions League semi-final match between Roma and Liverpool, Monchi has called on UEFA to introduce VAR in time for next season: "I'm convinced that the referee would have been happy to have VAR available, because when he sees the replays he certainly won't be happy to see he should have whistled for two penalties.
The Giallorossi understandably feel hard done by, having been denied a clear penalty kick when Stephan El Shaarawy's close range shot struck Trent Alexander-Arnold on the hand. Had referee Damir Skomina spotted the incident, he would have almost certainly been forced to show the 19-year-old Englishman a red card.
Indeed, Edin Džeko was adjudged to have been offside before being brought down by Reds goalkeeper Loris Karius in the penalty area. It is clear to see why Roma players and directors are angry and feel as if they have been treated unfairly, though the truth of the matter is that they ultimately failed to qualify as a consequence of losing their heads at Anfield last week.
Teams playing at the very highest level should not endure defensive blackouts like the one the world witnessed on Merseyside – that is the bottom line. Yes, had the referee and his assistants done their jobs properly then it could have been an entirely different outcome. However, it would be foolish to think that they themselves are devoid of blame.
Similarly, as Monchi himself alluded to when speaking to the media post-match, Juventus were eliminated by a contentious decision by Michael Oliver, who awarded Real Madrid a last-minute spot kick against the Bianconeri last month. There is a growing sense within the Italian media that there is a campaign against Serie A sides competing in Europe. While that may or may not be the case, laying the entirety of the blame at the officials' door is a convenient way of papering over cracks in their own set-up.
Both sides effectively lost their respective ties in the first leg, which would suggest that the two coaches got their tactics wrong. Both Massimiliano Allegri and Eusebio Di Francesco were found wanting, despite the fact that they both almost managed to redeem near impossible situations. VAR would help make the competition fairer – there is no doubt about that. However, using it as an excuse comes across as petty and does little to enhance the game's profile both at home and abroad.
Jordan Russell (@JordRuss96)