VAR to be introduced in the Premier League: pros and cons in Serie A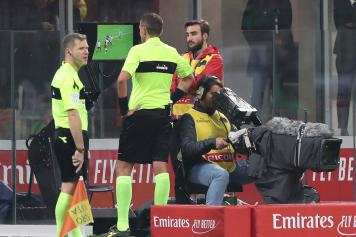 15 November at 22:20
Today, it was announced that the Premier League clubs have reached an agreement in principle for the use of VAR (Video Assistant Referee) next season. In Serie A, it was first introduced last season, and so far it has to be considered as a success.
Pros
First of all, the number of mistakes from the referees have decreased significantly, which is always good given how much controversy one wrong call can spark. In addition to this, whenever there is a controversial situation, the referee has the opportunity to take a look at the footage in order to make a decision.
This has also led to the players being much more calmer during these situations, which certainly must be a blessing for the referees. In other words, VAR has become a guarantee in the Serie A, for all parties involved. It's about time that Premier League, a competition with a lot of controversial calls, takes advantage of this technology.
Cons

However, of course it's not only been positive. At times, players tend to alert the referee about every single thing, wanting him to check VAR. In addition to this, there seems to be some confusion as to when it should actually be used.
The rules state that it must be an obvious error for VAR to step, and that hasn't always been the case in Serie A. This has resulted in an inconsistency which isn't positive, and thus the referees have called to a meeting during this international break.
Finally, it does take up some time, especially if the referee has to go out and check the screen himself. However, it must be said that Serie A has managed to minimize this flaw, as it has worked much better than what it did during the World Cup. Perhaps this has to do with the characters of the referees, so it remains to be seen how this will work in England.
In the end, there will always be different opinions, but VAR helps to limit these as much as possible.