Venezuela manager claims Paraguay sent women to hotel as distraction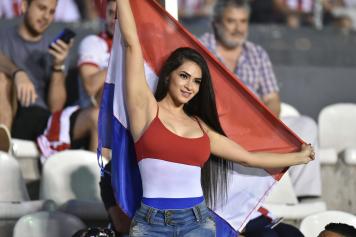 12 October at 10:15
Venezuela coach Rafael Dudamel has made the extraordinary claim that a number of women were sent to the team hotel to distract his players ahead of Tuesday's crucial World Cup qualifier in Paraguay.
While visitors Venezuela had already been eliminated, Paraguay still had a chance of qualifying for the World Cup in Russia ahead of the match in Asuncion. And, according to Dudamel, someone was clearly very keen for his players to be distracted and perhaps a little tired so that Paraguay had the edge.
'There were several women visits last night [Monday] at the hotel,' said the Venezuela boss. 'But football players have changed. 'We were not surprised by these female visits, I do not know who sent them. These are old strategies.'
Clearly Venezuelan heads were not turned and their professionalism paid off when Yangel Herrera scored the only goal of the game six minutes from time to end Paraguay's qualification hopes.
After the match the Manchester City player, currently with New York City FC, spoke about the women-of-the-night. "They spent the night in the hotel trying to tempt us, looking for anything, but thank god we're professionals and avoided it," said the 19-year-old Herrera.
Paraguay finished seventh in the final standings, two points behind Peru, who will take on New Zealand in the Inter-Confederation Play-off next month. On a dramatic night across the continent, Brazil, Uruguay, Argentina and Colombia took the four automatic qualifications spots for Russia 2018.
Venezuela ended up rock bottom in the group, having won just two of their 18 matches.