HT: Verona 0-1 Roma: 1st half tops and flops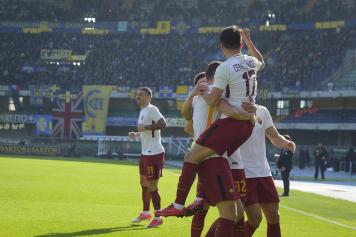 04 February at 13:15
Roma fans awoke this morning with hope that Sunday would bring stability to a quickly spiraling season. Despite a long run of awful form, the Giallorossi were favorites as they visited Hellas Verona in the early Serie A match.
Thus far, Roma is sitting pretty as they used a first minute Cengiz Under volley to take control of the match before it even seemingly began.
TOPS:
Eusebio Di Francesco – Following weeks of pointed criticism of him and his system, Roma's tactician showed that he can be flexible, switching to a 4-2-3-1 formation for the first time since taking charge. Di Francesco has endured criticism of his insistence on using his preferred 4-3-3 formation, despite not appearing to have the players necessary for it.
Cengiz Under – The precocious winger opened his Roma account with a thunderous volley mere seconds into the match. For the Turkish u-21 star, it was a well deserved milestone as he has played exceptionally well in recent weeks. For a team in desperate need of goals, his, less than a minute into the match, lifted a major burden off the players early on.
FLOPS:
Verona's attack – Following Giampaolo Pazzini's move to Levante, Moise Kean is the only offensive option for the Veronese. Unfortunately for the home fans, he was suspended for the match, leaving Bruno Petkovic and Matos to key the attack…with expected results.
Roma's finishing - The opening half hour, save for a couple of Hellas counters, was all Roma. However, aside from Under's early strike, their finishing continues to leave much to be desired.