Wanda: 'Juventus? Icardi and Ronaldo could play together'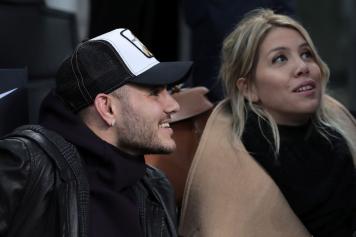 13 May at 09:30
Wanda Nara again appeared on the Italian TV show Tiki Taka to reiterate her position on the future of her husband Mauro Icardi, of whom he is also an agent. The Argentine reiterated that she sees a future for Inter with the Icardi who has no intention of saying goodbye at the end of the year.
OFFERS - "I did not understand the words of Spalletti at the conference. However, it is the newspapers and not me that continue to talk about offers for Icardi saying that" Icardi could go away "".
WANTS TO STAY - "I'm tired of repeating that he wants to stay at Inter. On the first day of the market I turn off the phone. Are offers coming? Yes. But the boy stays at Inter. Enough."
ALL THE BIG TEAMS - "The best teams have contacted him, the best coaches want him. But he is convinced he will stay at Inter, whatever the coach will be. Everyone wants him. According to Spalletti, it is the Inter that doesn't want it: the newspapers say ... "
NEW SWEATERS - "Wasn't Mauro one of the testimonials of the new uniforms? True, but surely the sponsor who is his own, will call him to do a shooting".
JUVE - " He would like it if he went to Juventus. Cristiano Ronaldo? They can also play together"