Watch: Cristiano Ronaldo's sisters salty Instagram response to Modric Ballon d'Or win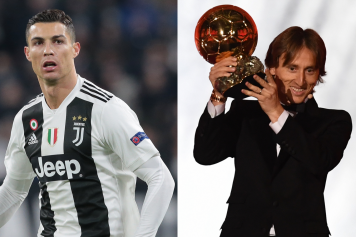 04 December at 13:15
Real Madrid star Luka Modric has won the Ballon d'Or for the first time in his career and it's pretty safe to say that Cristiano Ronaldo's family didn't take the decision of France Football very well.
Elma and Katia, the sisters of the Juventus star, have posted a couple of salty comments on social media about Modric's win.
"Unfortunately the world of football is sick because of the mafia and the fuc**** money. My people and I want to see some justice. The power of God is bigger than this rottenness. God can be late, but he never fails", Elma, Cristiano's elder sister wrote on Instagram.
Katia, the other sister, added: "The best player in the world, for those who know about football. I am worried for the future of the game."
Cristiano Ronaldo didn't attend yesterday's ceremony in Paris and was criticized by Atletico Madrid star Antoine Griezmann who was ranked third after the Portuguese star and Luka Modric.
Watch the posts of Ronaldo's sisters in our gallery