Watch: Gigi Buffon blames someone else for Spurs' leveller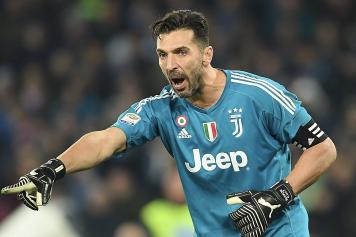 14 February at 10:30
Juventus could be set for a locker room bust-up if the latest report from the Gazzetta dello Sport is accurate.
Many Juventus players had a big hand in last night's 2-2 draw with Tottenham, a disappointment for the Old Lady as she now needs to win (or earn a high-scoring draw) next month in order to make the quarter-finals.
One who was generally believed to have done well was Federico Bernardeschi, who was fouled for Juve's first penalty, and generally acquitted himself well.
But Gigi Buffon was seen getting into a heated altercation with the recent signing from Fiorentina after the goal, as he believed that Bernardeschi shouldn't have jumped and turned on Christian Eriksen's free-kick, which ended up going in and allowing Spurs to level 2-2.
That said, the Italian veteran was still very slow getting across what didn't look like a particularly dangerous shot, earning him plentiful derision online.
Who do you think was guilty? Check out the footage below:
Olha aí o gol de empate do Tottenham sobre a Juventus! Christian Eriksen marcou. #CasaDaChampions #JuveTOT #JUVTOT #UCL #JUV #THFC #TercaDetremuraSDV #ChampionsLeague #JuventusTottenham #Spurs pic.twitter.com/bSru8XBkm3

— Aurélio Flávio (@aurelioflavio) 13 febbraio 2018