Watch: Morata jokingly shoves Arsenal man during interview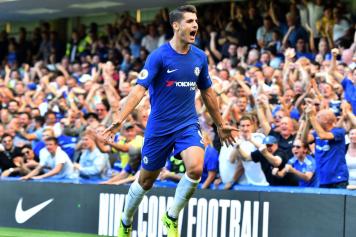 17 September at 15:35
Alvaro Morata is getting cheeky at Stamford Bridge.
With the Blues' key fixture with Arsenal only minutes away, the Chelsea striker has already been caught on camera trying to distract Hector Bellerin during an interview.
You can find the images on the Metro's
website here.
As you can see, the Chelsea's striker gave his international team-mate a bit of a shove, prompting a smile from the Arsenal man.
Bellerin was waxing optimistic about today's game, despite the fact that Arsenal have already lost twice this season, including a 4-0 humbling at the hands of Liverpool, and he is expected to play as a wingback in a 3-5-2, a tough challenge on that wing.
'In the last three games we've come out on top and the team has been playing really well,' he managed to say.
The two players were involved in plenty of summer transfer speculation. Morata himself was set to move to Manchester United, while Bellerin was repeatedly linked to former club Barcelona.
Is #Wenger just messing with #Arsenal fans now for shits & giggles? #CHEvARS pic.twitter.com/jO2HjQe3Pi

— Nima Tavallaey (@NimaTavRood) September 17, 2017