Watch: Ramos trolls Salah at UEFA awards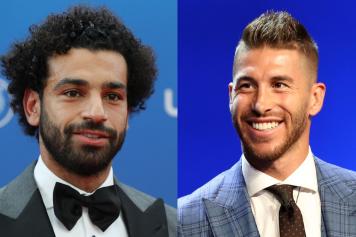 31 August at 12:15
Sergio Ramos is enjoying playing the heel right now,
if his latest actions are anything to go by.
The Real Madrid star courted controversy last night at the UEFA awards, touching Mo Salah on the same shoulder that he played a part in injuring a few months ago.
Back then, Real and Liverpool were facing off in the Champions League, and a grapple from the Spaniard brought Ramos tumbling down on his left shoulder, taking him out of the game.
While debate raged about whether this was done on purpose - and an Egyptian poll even went as far as to ask Ramos to be banned from the World Cup - Ramos went through the media ringer.
The two players were seated near one another at last night's awards, and one could see Ramos touching the Egyptian's shoulder… Wrestling heel indeed!