Watch: Rudiger stamps on opponent's neck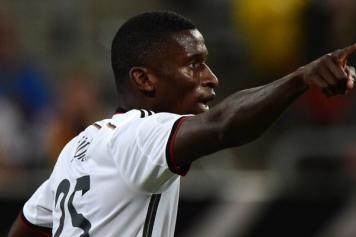 07 September at 19:55
If France's Benjamin Pavard thought that playing in the Bundesliga would earn him a good welcome from the Mannschaft… he was wrong!
France ended up drawing 0-0 with Germany in their Nations League opener, but it was this particular clash with Toni Rudiger that earned all the attention.
The World Cup winner made headlines in summer by scoring a beauty against Argentina and starting every game for Les Bleus despite only being 21, and having been a Bundesliga 2 player with Stuttgart as recently as 2016-2017.
The French chose to remain in Germany despite a lot of market interest in him, but this seems to have made no difference when he came into contact with Toni Rudiger, formerly of Roma and now at Chelsea.
Totally disgusting. This is the stamp from Ruediger on Pavard.
Try to call it not intentional.
What the hell he had in mind, UEFA should apply a heavy ban pic.twitter.com/y8oI2wVxHi

— Tancredi Palmeri (@tancredipalmeri) September 7, 2018
Yet Pavard's reaction was measured, the former Lille man claiming that this was just "part of football."
"[My neck] is really painful, but it's part of football. Honestly, I don't know if he [Antonio Rudiger] did it intentionally. I haven't seen the replay yet. All I can say is that it's part of football."
And yet, look at his war wound! Not bad, eh?
Stud marks Pavard