What Juventus must learn from Liverpool-Spurs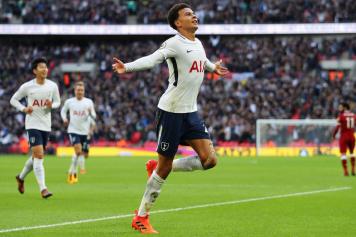 05 February at 15:00
It would be fair to say that yesterday's Premier League game involving Liverpool and Tottenham at Anfield was one of the games of the season. It had everything. Spice,drama, controversy, wonderful goals and unbelievable misses. It was treat to watch for anyone who was lucky enough to watch it, especially the neutrals. Spurs and Liverpool fans though, would've been on the verge a heart-attack by the time the final whistle was sounded at Anfield.
If there was anyone though, who would've been watching the game with keener eyes, then it was Juventus. Massimiliano Allegri's men lock horns with the North London giants in about two weeks from today in the Round of 16 of the UEFA Champions League in what promises to be a gargantuan tie for both sides. Because of the draw at Liverpool though, Juventus must've realised certain chinks in the Tottenham armor that they would need to exploit when the sides take on each other.
One thing that was glaring in the way Tottenham played was the inability of the high-backline to tackle opposition forwards who make runs in-behind the backline. Mo Salah, who scored the Liverpool opener did that and Tottenham were caught napping. Throughout the first-half, Spurs faced a similar issue whenever the trio of Roberto Firmino, Sadio Mane and Salah made runs in behind the high-backline. Especially in the worrying absence of Toby Alderweireld, who will be fit to take on Juve, Spurs do struggle against an attack than boasts of forwards who can make clever runs in-behind. Juve will be without Paulo Dybala and Juan Cuadrado, but the presence of Gonzalo Higuain can help them achieve that.
And it has become a common trend for Spurs to hammer teams when they take an early lead. Be it against Manchester United or against Liverpool at Wembley, we have seen how they dismantle teams on taking early leads. Sides like Southampton, Huddersfield, Everton and West Ham have suffered similar fates.
When they haven't scored early though, Spurs totter a bit. Especially if sides play a deep defensive line against them. Teams like Brighton, West Brom, Swansea and Burnley have, this season succeeded in frustrating Spurs by not allowing them any room to play with in front of the back four and by packing the midfield. Liverpool used a similar approach in the first half yesterday.
And while Christian Eriksen is very likely to play, his absence troubles Spurs a lot. While they do have the likes of Dele Alli, Son Heung-Min and new signing Lucas Moura, Eriksen is an indispensable organ of a side that often struggles to break sides down due to the lack of a creative playmaker. That leaves Kane without any service.
On the 13th of February in Turin, Juve will have a stiff task at hand. Spurs have already beaten Borussia Dortmund and Real Madrid in the competition and it wouldn't take them too much time to flex their muscles.
Kaustubh Pandey(@Kaus_Pandey17)