What Nereo Rocco would say about AC Milan and the Azzurri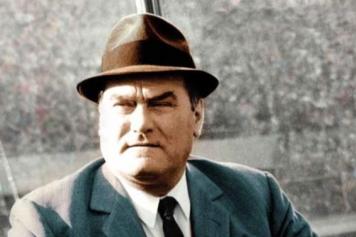 21 November at 12:50
Certainly a return to old days of "Catenaccio" isn't the solution to resolve all that is wrong with Milan and the Italian national team, but
legendary manager Nereo Rocco's teachings offer a lot of insight in what can be done
to improve both of their situations.
Every time I return to my home town of Padova,
I immediately start thinking about the coach known as "El Paron" (the Boss) and this year with both Milan and the Azzurri in crisis,
I can't help but think that his charisma, tactical intelligence, ability to get most of his players and sense of humor would be key ingredients in the turnaround of two massive institutions in Italian football.
For those of you not familiar with Nereo Rocco, here's the cliff note version of his story. He was a fairly successful midfielder in the 30s and 40s,
he played for his hometown team Triestina as well as Napoli and Padova
, he also collected one cap for the Azzurri playing for legendary manager Vittorio Pozzo. But he became a legend when he transitioned to coaching.
​Along with Inter's Helenio Herrera, Nereo Rocco was instrumental in perfecting the "catenaccio" tactic. While this strategy is mainly associated with Italian football (and still today despite the scoring boom in Serie A)
it was invented by Austrian coach Karl Rappar who managed in Switzerland during the 30s and 40s. Rappar decided to move a player away from the midfield
and move him behind three man marking defenders- with this switch the role of the "libero" (sweeper in English), which both Beckenbauer and Scirea excelled in, was invented. The libero had no man marking responsibilities, but rather was tasked with recovering loose balls and helped lead the counter attack.
By using the catenaccio tactic, Rocco lead Triestina to a surprising second place finish before managing Padova and eventually Milan where
he won two scudetti, three Coppa Italias, two Coppe dei Campioni (today's Champions League) including the rossoneri's first title as European champions
, as well as an Intercontinental Cup.
Just last Friday I attended the match known as the Nereo Rocco derby between Triestina and Padova, as I was watching the two teams play at the Euganeo stadium
I couldn't help but think what Rocco would think of the current state of both Milan and the Azzurri- both of these teams have failed to capitalize
on their considerable talent.
Rocco was known for his sense of humor and charisma- he often motivated his players, including the great Gianni Rivera, with some colorful quotes spoken in his local dialect. While his most famous quote, Cio' speremo de no (let's hope not)
which he uttered after a journalist wished him well before a match by saying "let the best team win"
, perfectly sums up catenaccio there are others that explain Milan and the Azzurri's current state.
"Mister te sara' ti, mi son el signor Rocco"
(You can be called the coach, I'm mister Rocco)
Mister is the English word players and journalists use to refer to a football manager, but Rocco demanded a greater level of respect.
Seen the recent level of effort from both Milan and Azzurri players, and the various reports of Italian national team players almost starting a mutiny against Ventura
after the first leg against Sweden, it would be interesting to see what the results would have been with a manager like Rocco on the bench.
"Te jeri campion, no ti poi finir bidon"
(You were a champion, you can't end up as bust)
This phrase certainly applies to what we've seen so far from Bonucci at Milan and to a lesser extent to De Rossi and Barzagli on the Azzurri. While a lot can be said for adapting to a new team, that also happens to feature so many other new players, Bonucci is simply too good a player to continue to struggle like he has in his first few months at Milan.
​With De Rossi and Barzagli, two players that when they were in their prime were amongst the best in their respective roles in the world, maybe too much was asked on the Azzurri in recent months. Barzagli had previously decided to retire from the Azzurri after the last Euro but decided to come back- maybe that wasn't for the best
​While many will rightfully remember the class De Rossi displayed by going on Sweden's bus to apologize for the fans booing the national anthem, his recent performances both for Roma and the Azzurri have left a lot to be desire- he probably should have retired from the Azzurri after the last Euro.
"Testa de gran casso ti e anca quel che t'ha messo in squadra"
(You're a moron and so is the person who put you on the team)
This is a great example of Rocco's signature sense of humor, but it also showed his willingness to take responsibility when his players underperformed. The exact opposite from what we saw from Ventura who dared mention he had one of the best records of any Azzurri manager in past forty years simply because he only lost two games.
"Mi te digo cossa far, ma in campo te va ti"
(I tell you what to do, but you are the one who goes on the pitch)
In the past few days I have been asking myself if we are blaming Ventura and Montella too much for their teams' recent failings. While they certainly deserve a lot of the criticism they receive, the Azzurri had enough talent on their squad to eliminate Sweden even without Insigne, and to perform better against the likes of Macedonia and Albania even though Jorginho hadn't been selected.
The same can be also said for Milan, who now have seven points less than they did this time last season despite massive investments on the transfer market last summer. Rocco would take responsibility if he picked the wrong players, but at the end of the day we can't just scape goat the coach when a team underperformers, especially when the players earn millions.
@DavidAmoyal
David Amoyal