What next for Arsenal's Aaron Ramsey; Italy, Spain or England?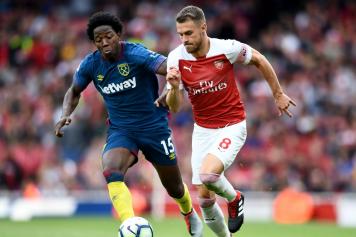 27 September at 17:15
News broke yesterday that Aaron Ramsey will be reportedly leaving Arsenal when his contract expires next summer, after the club failed to agree terms on a new contract with Ramsey. It has been rumoured that Ramsey's demands were too high for the club, with it thought the midfielder wanted to earn a sum closer to that of Mesut Özil; which Arsenal were not prepared to offer.
Therefore, Arsenal face a similar dilemma to that of Alexis Sanchez last year; with the Chilean eventually moving to Manchester United in January with the two clubs swapping Sanchez and Armenian winger Henrikh Mkhitaryan.
A number of clubs have shown an interest in Ramsey in the past. Back when the Welshman played for Cardiff City, Manchester United were very close to a deal for the midfielder before Arsenal swooped and stole Ramsey from under their noses. In the Premier League also wait Chelsea and Liverpool; who were reportedly interested in the midfielder in the summer. There was also interest from Serie A during the summer, with Lazio, AC Milan and Inter Milan named as possible destinations. Lastly, the Spanish option; Barcelona and Real Madrid could both move for the talented Arsenal star – giving Ramsey a plethora of choices.
Any of the top Premier League teams could, or perhaps should, consider a move for Ramsey but as aforementioned, Chelsea or Liverpool look like the most likely destinations. Chelsea are reportedly close to losing Cesc Fabregas when his contract expires with the club next summer; Milan considered favourites for his signature. This leaves a hole in Chelsea's side and considering Ramsey was part of the midfield that replaced Fabregas, the move makes a lot of sense for Sarri.
Liverpool, meanwhile, are a central midfielder away from an elite squad and could consider Ramsey a target. Premier League clubs perhaps hold an advantage with the wages they can offer Ramsey; seeing as that proved to be one of the stumbling blocks in his extension with Arsenal.
In Italy, wages are a problem for Lazio, Inter and Milan; although the two Milanese sides can offer more to the player than Lazio would be able to. However, Ramsey would be a quality addition for all three sides.
Lazio could lose Sergej Milinkovic-Savic next summer, as the 23-year-old remains wanted by many of Europe's top clubs. This leaves a hole in their side that can, like Chelsea's situation, be filled by Ramsey. Milinkovic-Savic leaving would give the club a significant financial boost too, perhaps giving Lazio what they need to offer Ramsey a lucrative deal.
Milan currently have Chelsea's Bakayoko on loan and, if they choose not to make the deal permanent, could move for Ramsey. Milan showed an interest in signing a star central midfielder during the summer and Ramsey could be the perfect name to mark a new era for the club. Inter, meanwhile, tried to sign Luka Modric during the summer but failed; they will likely try again for the Croatian next summer but, if they lose hope, they could attempt to seek an alternative.
The final (probable) option is Spain; with a move to Barcelona or Real Madrid. Barcelona are interested in signing Paul Pogba from Manchester United and will likely pursue this as a main option. If a move for Pogba collapses, Barcelona could target Ramsey as a much cheaper alternative; yet one who can still offer the club a lot creatively. Real Madrid, meanwhile, could lose Luka Modric but, with the Croatian 33 years of age, the club will still look for a long-term replacement. Aaron Ramsey is 27 but there are younger options out there and Madrid may seek a player like Lazio's Sergej Milinkovic-Savic prior to targeting the Arsenal midfielder.
Whatever happens, it looks like Ramsey will be leaving Arsenal. There will be no shortage of suitors so expect the Welshman to make an informed, educated decision for the best of his career; wherever that may lead him.