What the capocannoniere race says about Serie A's future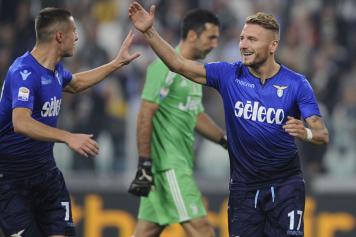 31 October at 12:35
For years we've been reading articles on what was needed to make Serie A great again, and while there have been some encouraging signs- new foreign owners, plans for new stadiums, a new TV deal that should improve the marketing of the league worldwide- at the end of the last summer transfer window we finally had some indisputable evidence things were starting to change for the better.
While in previous summers we had seen a max exodus of Serie A's best players, this year we saw all six strikers that had scored 20 or more goals the previous season- Dzeko, Mertens, Belotti, Higuain, Icardi and Immobile- stay at their respective clubs. Beyond the benefits of the continuity, just the fact that the Italian league, often dismissed by those who don't watch it as "boring and defensive", could have so many strikers scoring at such an impressive rate is a bold statement in it of itself.
This season we continue to see numerous players scoring at an impressive rate, and while Belotti will be hard pressed to keep up with the others, there will still be a great race to anoint the next capocanniere. The contenders' circumstances, and the prospects of them staying in Italy long term, give us more insight on the current state of Serie A:
The Crown Jewels
Had you told me that Inter would be once again outside looking in with the Champions League and that Barcelona would lose Neymar, I would have been fairly certain that at least one of out of Paulo Dybala and Mauro Icardi would have left Serie A. But instead both ended up staying at their respective clubs, and they're once again showing they're often mentioned as super stars in the makings.
Icardi has really benefitted from fact that Ivan Perisic stayed with the nerazzurri, no player in Serie A has more assists in 2017 than the Croatian winger and icardi has been the beneficiary of most of them. During his last contract negotiation, Icardi was given an exit clause of around 110 million which at the time seemed outrageous, but in light of the Neymar and Dembele' sales, Inter are looking to renegotiate the terms.
Icardi has always publicly stated that he wants to stay at Inter long term, and while these statements are often followed by a departure to a bigger club for more money, when you consider that Inter finally look to have turned the corner and seem in good shape to return to the Champions League, it's unlikely that Icardi would depart when he stayed in far worse situations.
Paulo Dybala has become Juve's main goal scorer this season, in part because he has taken more and more of the set pieces even with Miralem Pjanic on the pitch. The former Palermo striker signed a rich extension with Juventus last April and he hasn't struggled at all with the pressure of playing with Juve's number ten jersey- while he'll always have numerous suitors, the fact that Juventus' revenues continue to increase should give the club's fans hope that he'll stay for the foreseeable future.
Implications for Serie A:
the fact that they both stayed in Serie A with a vacancy at Barcelona and with Inter out of the Champions League, is a great sign- we'll know the league is fully back if they play the majority of their careers in Italy.
The reclamation projects
During his first season in Serie A, Edin Dzeko was mocked for his robotic movements and inability to convert fairly easy scoring chances- it got so bad that he was the undisputed loser in the debate on who was a better new addition to Serie A when he was compared to Carlos Bacca.
Well a year later that debate looks comical, Dzeko led Serie A in goals scored last season and now he's an invaluable point of reference for a Roma front line that no longer features Totti and Salah. The former Manchester City striker is without a doubt one of the best value purchases of the Sabatini era, he arrived in Rome for around 20 million euro- which is basically what clubs like PSG have between the pillows of their couches.
With 14 goals in the books and with more than two thirds of the season left, Ciro Immobile is almost a lock to score at least 20 goals for the third time in a Serie A season. If you take the time to do a quick search of the top #9 in Italy the past twenty years you'll see what an exclusive club this is (Shevchenko and Trezeguet are in while Ibrahimovic and Pippo Inzaghi have two or less), and while you can say Serie A had better defenses back then, all these players were on better teams than the Torino and Lazio Immobile has played for.
Lazio astutely recently signed Immobile to an extension, and he'll almost certainly at least finish the season in Italy. While it's fair to point to Immobile's struggles in Germany and Spain, he's still only 27 (feels like he's been around forever since he was a highly rated Juve prospect) and he should be given more credit for what he's doing today and what he could bring to the table to a bigger club down the road.
Impilcations for Serie A:
I can't blame those who say the fact that both Dzeko and Immobile are killing it in Serie A speaks to the level of the league, by the same token we have seen Simone Zaza absolutely own la Liga this season and there are highly rated strikers that come to Italy from abroad and struggle. On the positive side, Serie A sporting directors continue to have a knack for finding reclamation projects from other leagues and turning them into gold.
The scudetto pact
When Arkadiusz Milik suffered his first knee injury at Napoli after a sensational start replacing Gonzalo Higuain, Maurizio Sarri decided to move Dries Mertens from the wing (where he was a very valuable twelfth man in Serie A) to the false 9 role- the results have been incredible since Mertens has now scored 42 goals in 52 matches.
Despite never getting the wages of a true top player, Mertens agreed to an extension with Napoli last year at a time where I think few would have blamed him for cashing in. The Belgian international was part of the now famous "scudetto pact" between Napoli's top players, Sarri and the club- Napoli in fact inserted an exit clause worth around 30 million valid outside of Serie A in Mertens new contract which would allow him to leave next summer (it cannot be used in January)- while the fee is on the surface very low, Mertens will be 31 by time it can be used- safe to say the contract was a very fair compromise for all involved.
Implications for Serie A:
the fact that Mertens' career exploded in Italy in large parts thanks to Sarri's intuition and offensive system, may encourage more top players who have yet to completely fulfill their potential to move to Italy where even mid table clubs usually have very good managers.
@DavidAmoyal
David Amoyal