Which Serie A teams have biggest margin for improvement?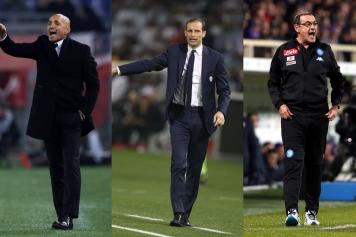 07 November at 16:27
With about a third of the Serie A season in the books we are seeing more parity than in previous season. Juventus are challenged by Napoli, who went all in for this scudetto by retaining all their key players, and Inter who have made a massive upgrade at coaching position and have the "luxury" of not having to play in European competitions.
We also have a significant race for the four Champions League spots with Roma, Lazio off to a great start and Milan not totally out of the picture because of their significant talent. We also have numerous teams in the race to avoid relegation with just Benevento certain to return to Serie B- so with parity becoming more of a buzz word in Serie A, just a few changes can make a big difference.
This week let's take a look at which top teams in Italy have the highest margin for improvement without having to make any transfer moves:
Napoli
Not surprisingly the partneopei's decision to go with continuity has helped them get off to a great start. Jorginho, Koulibaly, Mertens, Insigne and (when healthy) Ghoulam have been outstanding after getting even more familiar with Sarri's system- but the flip side to this is they really don't have much margin for improvement, and if anything, they're candidates to regress.
The loss of Ghoulam cannot be understated considering how effective Napoli has been on the left flank, while they have invested fairly significantly in Mario Rui, a left back Sarri had at Empoli, it's a big ask to have him perform at the Algerian's level. Napoli's best chance at growth is having Hamsik get back to his old standards: it's certainly possible he'll go back to being one of Serie A's premier players once he finally breaks Maradona's goal scoring record at Napoli- it seems the pressure of the chase is getting to him.
Napoli could also improve if Sarri starts having more confidence in former Bordeaux winger Ounas and midfield Rog who has shown flashes when given a chance. At this point we can probably write off Maksimovic and Tonelli as busts since Chiriches seems to have permanently passed them in the pecking order.
Juventus
Historically Max Allegri's teams have peaked in the second half of the season (and until the Champions League final if you wanted to be cynical) and because the former Milan manager has always integrated new players slowly, it's very likely the bianconeri will benefit from strong performances from Douglas Costa and Bernardeschi soon.
While the there's no denying Juventus have missed Bonucci, it looks like Daniele Rugani has finally earned Allegri's trust and he could become the (almost) permanent partner to Chiellini. It also looks like Howedes is finally rounding into shape, he could be a very valuable player at the right back position where Juventus has struggled all season. Against Benevento we also saw the first flashes of Alex Sandro finally rounding into the form, the Brazilian defender went from being the best left back in Serie A to being a liability in most matches.
Inter
Granted two seasons ago Inter had also gotten off to an amazing start under Mancini by winning numerous matches by the skin of their teeth, and then we all know what happened- a full blown case of Pazza Inter on the way to a dreadful finish. But having Spalletti as the manager is a massive upgrade and there are also other reasons to think Inter could actually get better.
For his lofty standards Mauro Icardi has room for improvement this season, and three of their key summer acquisitions- Dalbert, Joao Cancelo and Karamoh- have yet to play much and could be significant upgrades at positions of need. While D'Ambrosio and Nagatomo have looked much better under Spalletti, Joao Cancelo and Dalbert were brought in to be starters and Karamoh could end up bringing some of the attributes Inter were expecting from Gabigol.
Lazio
Few teams in Serie A can rely on a more dependable trio than De Vrij, Milinkovic Savic and Immobile- three players that bring significant quality to each part of the pitch. In addition, Lucas Leiva has outperformed the player he replaced, Lucas Biglia, by a wide margin this season.
But there are also two players who could elevate Simone Inzaghi's squad even further- Nani has started to make an impact after rounding into form the first few months in Italy, and Felipe Anderson could return right after the international break. The Brazilian winger's stats suffered considerably once Simone Inzaghi asked him to play a more defensive role last season, and it will be very interesting to see how well he compliments Luis Alberto, arguably the most improved player in Serie A.
Roma
The very fast of the teams mentioned so far have overshadowed the fact that Roma is also off to a good start. The giallorossi have obviously received a lot of praise for their performances in the Champions League, but even after the two goals conceded to Fiorentina on Sunday, they still have given the least amount of goals in Serie A (albeit with one less game played, which in it of itself is another way that Roma can improve).
While Di Francesco has gotten a lot of out midfielder Pellegrini, whom he coached at Sassuolo, the same cannot be said for Defrel, another former player from the neroverdi, Because of health issues, Roma's most expensive purchase ever Patrik Schick has yet to play significant minutes- he could end up being a very intriguing addition to the front line. While Florenzi has performed well since returning from a knee injury, he could be even better once he fully regains match form.
Milan
Whether you believe in Montella or not, I think it would have been a challenge for even an elite manager to integrate so many new players into a squad. If that weren't enough. the fact that Fabio Borini has arguably been Milan's most consistent new addition, really says it all for the rossoneri's margin for growth.
Bonucci has shown some flashes of his Juve form in the past two matches, so it's possible that his recent two game suspension could be seen as a blessing in disguise in the near future. While Lucas Biglia has made some call for Montolivo to play more, but the former Lazio captain is simply too good of a player to keep struggling this way.
While Andre Silva has dominated in the Europa League he barely plays in Serie A, but you'd think that Nikola Kalinic's recent disastrous performances will force Montella (or whoever replaces him in the coming months) to change this rotation. We can also expect more from Ricardo Rodriguez and Calhanoglu as the settle into Serie A, and when Conti returns from an ACL injury he still has time this season to show why he was considered to be one of the best right backs in the league.
@DavidAmoyal
David Amoyal