Who has been the best left-back in Serie A so far? VOTE NOW!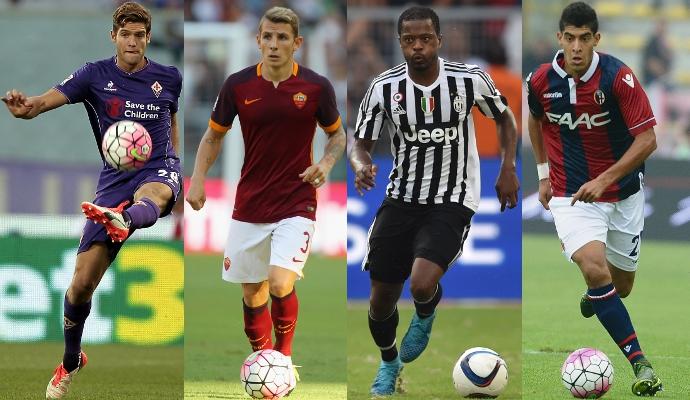 2015-24-12 - 12:26
With Serie A brutally abandoning us until January 6th,, it is time for us to review the best left-backs out there for our Best XI. We've chosen the 4-2-3-1 that so many managers seem to love, and which Fiorentina and Napoli have put to such good use.

Readers voted in Inter shotstopper Samir Handanovic with 33% of the vote, beating out Gigi Donnarumma, (Milan, 29%), Pepe Reina (Napoli, 21%) and Gianluigi Buffon (Juventus, 17%).

Our right-back will be Elseid Hysaj, who won a stunning 42% of the popular vote to Alessandro Florenzi's 33%, Bruno Peres 17% and Sime Vrsaljko's 8%.

Our poll on the English twitter page still voted Hysaj in, though with a narrower margin. He garnered 32% of the vote to Vrsaljko's 25%, leaving Florenzi and Bruno Peres in the lurch with 22% and 21% respectively. We can only assume that the English page represents opinion world-wide, a fascinating contrast if it's accurate.
With regards to the LB position, you can vote for HERE from these four choices. Ignore the Italian, it's just a question of clicking. I barely speak English anyway, and got my RBs and my LBs muddled up yesterday (I blame Christmas), so thanks to those of you who pointed it out on twitter.
. Marcos Alonso (Fiorentina) - A Real Madrid product, he'll be 25 on Monday, which is awkward for those who don't want people to kill two festivities with just one present. A tremendous athlete, his left foot demonstrated all its destructiveness with a great frree kick against Milan on Matchday 1 . The former Sunderland man is close to renewing his contract, which expires in June.
. Lucas Digne (Roma) - Talk about Ligue 1 feasting on the scraps at PSG's table! Rudi Garcia has seen his former pupil at Lille repay his faith with a consistent start to life in Serie A. Roma must be considering exercising their option to buy, having finally solved their head-ache at left-back.
. Patrice Evra (Juventus) - 34 years old and over 100 Champions League caps don't seem to have slowed him down. Not as dynamic as he once was, Evra is still reliable in defence (let's conveniently forget the mistake he made against Gladbach for a minute...). He's been reliable as Alex Sandro acclimatises to life in Serie A.
. Adam Masina (Bologna) - The Italo-Moroccan won the AIC prize for Most Promising player in Serie B last year, he's since earned a call-up to Gigi Di Biagio's Under-21 team. Inter and Juventus want him, as do many fantasy owners.