Who is Francesco Caputo, the Serie B star who has stolen Conte's heart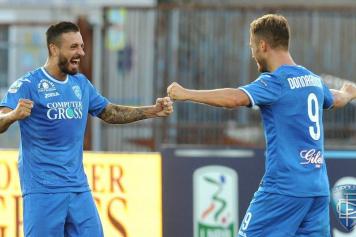 16 September at 19:03
Empoli beat Ascoli in their Serie B meeting today with an easy 3-0 win. One of the goals of the Tuscans
came courtesy of Francesco 'Cicio' Caputo a 30-year-old striker who has played several seasons under Antonio Conte during his career.
Caputo begun his career in Italy's non-professional leagues.
In the 2005/06 campaign he netted 14 goals in 20 games with Torrito, a non-professional club in Italy's 'Prima Categoria'.
In the following season he joined Real Altamura (Eccellenza) and went on to score 12 goals in 30 appearances.
The 2007/08 campaign is his first one in Italy's professional football.
He netted 11 goals in 29 appearances with Noicattaro and thanks to his performances he attracts the interest of current Chelsea boss Antonio Conte
who decided to sign him for Bari in summer 2008 when Caputo was only 21-year-old.
Caputo
netted 10 goals in his first season under Conte helping Bari to gain promotion to Serie A.
After two disappointing campaigns with Salernitana and Bari Conte offered him an escape route telling Caputo to join him at Siena (still in Serie B). Caputo accepted Conte's offer managed three goals in 14 appearances from January to June. In the 2012/13 campaign he return to Bari but after 17 goals he got banned due to match fixing (he was accused of not having reported a match he knew would have been fixed).
He returns to on the pitch a few months later and
keeps scoring goals for Bari, Entella and now Empoli.
He now has five goals in just as much appearances with the Tuscans. Caputo knows he can't rejoin his mentor at Chelsea but is aware that he was one of the best players Conte had in the first years of his managerial career.