Who is Manchester City target Oleksandr Zinchenko?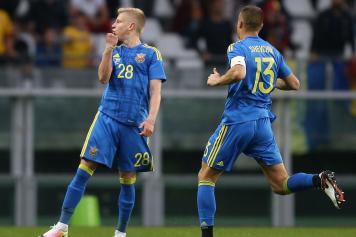 07 June at 22:15
Not everyone knows him. He is definitely not as popular as
Ilkay Gundogan
but we could see him playing alongside the former Borussia Dortmund star for Manchester City next season.
Oleksandr Zinchenko
is a 20-year-old offensive midfielder and Pep Guardiola thinks extremely high of him: a potential star, destined for greatness.
Zinchenko is a product of
Shakhtar Donetsk academy and is playing for Russian side Ufa
, the club where he moved as a free agent back in 2015. His transfer, however, was object of controversy as the 'Minors' accused him of rescinding his contract with the club before the natural expiration of the deal.
He has earned a call up to Ukraine national team for EURO 2016 and last week he broke Shevchenko's record as the youngest goal scorer with senior Ukraine team (19 days and 165 days).
Borussia Dortmund are also interested in sealing his transfer, but according to the British press, Manchester City are leading the race to sign him. Former Arsenal man Emmanuel Frimpong is reportedly giving him classes to improve his English.
Zinchenko wants to be ready, should he receive a call from the Etihad Stadium.
Federico Zanon, translated by Lorenzo Bettoni @lorebetto