Why Arsenal need Beppe Marotta more than Inter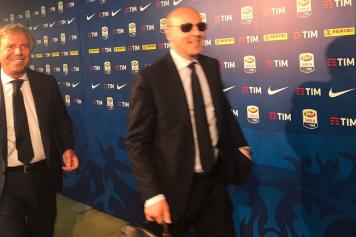 04 October at 15:15
Juventus parted ways with CEO Giuseppe 'Beppe' Marotta last week, sparking all sorts of speculation about where the 61-year-old executive will head next. Marotta cannot join another club until the season is over yet, already, Arsenal, Inter, Manchester United and Milan have all been linked as potential suitors.
Inter Milan are reportedly favourites to sign Marotta yet there is one club that perhaps
needs
the Italian's presence more than the other three: Arsenal. Ivan Gazidis left his role as CEO of Arsenal, to become the CEO at AC Milan at the end of October. Milan offered Gazidis a substantial pay increase and the North London club could not match the financial power of Paul Singer and the Elliott Management hedge fund. Gazidis has been temporarily replaced by Raul Sanllehi and Vinai Venkatesham who have taken up roles as head of football and managing director respectively.
Arsenal are now in their second consecutive year in the Europa League, after the 17/18 season brought to an end 17 years of consecutive Champions League qualification. Although just over a year is not a long time in the grand scheme of things, clubs in the Europa League earn significantly less than those in Champions League. The maximum prize money that a club can receive in the Europa League (winning all their group stage games, topping their group and winning the tournament) was €15.71m for the 17/18 season. In comparison, the most a club could receive in the Champions League was €57.2m; nearly four times that of the EL.
Without the prize money and TV revenue that the Champions League gives to a club, a club needs to be run more frugally. If Arsenal continue to miss out on Champions League qualification, the club will have no option but to cut down on transfer spending; risking being left behind by their competitors. If Arsenal remain in the Europa League, the only way that they can keep buying high quality players is if the club is run in a more financially strict and efficient manner.
Going back to Beppe Marotta, the reported reason for his Juventus departure was a disagreement in attitudes between Marotta himself and Juve President Agnelli. It has been reported that Agnelli and Juve sporting director Fabio Paratici favour a more aggressive attitude in terms of purchasing players whilst Marotta prefers a more reserved, financially sound way of running the club.
It is in Marotta's best interests to join a club where his footballing philosophy will not only be matched but actively encouraged. A move to Inter could see Marotta once again at odds with the philosophy of aggressive spending. Inter want to make the push to challenge Juventus atop Serie A yet, if Juve are pursuing higher-value transfer targets, Inter, and the other 'Anti-Juve' sides, will need to keep up.
Therefore, not only do Arsenal need Marotta but Marotta almost, in a way, needs Arsenal. The club and the CEO are a match made in heaven and Marotta's Juve departure comes at a coincidental time with Ivan Gazidis' Arsenal exit; next summer will reveal all.
For more news, views and features,
visit our homepage.