Why Barcelona and Man Utd should be concerned with Inter's shopping list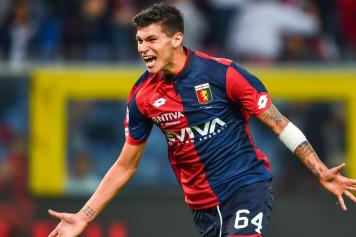 26 September at 16:00
AC Milan had a record summer transfer window which returned the world's eyes on the San Siro. One club that is very aware of Milan's summer expenditures is their co-tenant, Inter Milan.
When Suning Commerce Group took over the club, many speculated the Chinese-led investors would shell out millions on the summer transfer market. However, in the end, many fans were disappointed by Inter's moves, or lack thereof.
Such a sentiment may be short lived as Inter is creating their winter shopping list (via La Gazzetta dello Sport)
. At the top in 16-year-old wunderkid Pietro Pellegri from Genoa. The striker has generated interest from some of the richest clubs in the world. Barcelona and Manchester United are keen to bring the teenager to their organizations.
In addition to Chelsea, who scouted him alongside Manchester United, Barcelona are capable of splashing lavish amounts of money on young stars. However, it appears that Inter is willing to do whatever it takes to bring the starlet to the San Siro.
Such a potential outcome is troubling for Barcelona who have Pellegri penned as their their second-choice striking import. At the top is German Leon Goretzka, who according to Spanish media outlets, is linked heavily with the Catalan side. However, rumors are now surfacing that he'll join Bayern Munich when his contract expires in 2018. It's possible the vaunted Barcelona could miss out on their top prospects.
Matthew Klimberg