Why Barella will give Chelsea the look of Sarri's Napoli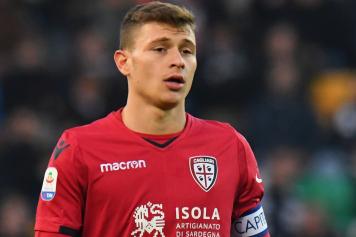 06 January at 09:10
The chatter on Twitter about Nicolo Barella has been of a diverse variety. Some say that the Cagliari man isn't good enough for a club like Chelsea, with others saying that he can't play in the same team as Jorginho. Some even say that with N'Golo Kante in the side, Barella can't break into the Blues first team.
While Chelsea are yet to sign the young Italian, the fact is that he has almost carried Cagliari on his shoulders, despite being only 21. That, over the last two seasons or so. While Leonardo Pavoletti and Joao Pedro come up with the goods in front of goal, Barella has become the driving force of the side.
Comparisons with Radja Nainggolan- a former teammate of his, are very much justified. The 21-year-old is fiery character, who never gives up and has a tremendous work-ethic in the heart of the park. He is box-to-box and thrives on winning the ball back and circulating it forward. He isn't a deep-lying playmaker or a defensive midfielder, remember. He likes to get the ball in midfield and play it to forward players around the final third. He can go past defenders and can make lung-bursting runs for the good of the side.
Perhaps, Nainggolan was in a similar spot before he was used as a number ten in the 2016-17 season at Roma. That hunger and desire that the Belgian had playing as a deeper midfield player than an attacking midfielder is very much visible in Barella. He doesn't play as a defensive midfielder like Nainggolan does, but the approach to the game in very similar.
Maurizio Sarri's 4-3-3 formation at Napoli had midfielders who had distinct roles to play in. Jorginho acted as the deep playmaker. His compass-like vision and ability to find teammates around him by playing all sorts of angled passes stood out. He set the foundation to everything. Allan played alongside him- acting as the box to box midfielder. Someone who would compliment Jorginho a lot of times when things got tough defensively. He would be the graft to Jorginho's craft. Marek Hamsik played a slightly more attacking role, having a lesser burden to drop in and defend.
And it is Allan's role that Sarri wants Barella to play. And the Italian suits that more than N'Golo Kante does, to be very frank. Kante has been forcibly dislodged from his best position by Jorginho and he's playing out of position and at a position where he isn't the best at. The Frenchman is probably the best in the world at defensive midfield, helping Leicester to the Premier League title, helping Chelsea to it and helping France to the World Cup. And it will be fair to say that a player who has played in that position all his career and thrives in that role would be better playing there, as compared to someone who is playing out of position.
Sarri seems to have this obsession for Jorginho. Rightly so, the former partenopei star is a key part of his style. Jorginho's passing and persistence on the ball keeps a Sarri's sides ticking. Since the former banker's approach relies on possession and constant penetration, Jorginho is the anchor. His passing attributes are certainly better than Kante and his eye for a pass makes him a machine- just what Sarri likes in a player in that position. That's exactly why he has been brought along from Napoli.
Whether Kante should play ahead of Jorginho in that position is an argument that doesn't make for Sarri. What Jorginho is for Sarri's Chelsea is what Busquets was for Guardiola's Barcelona. They're irreplaceable.
And since Barella has played alongside Jorginho for Italy in a similar 4-3-3 formation and he has done very well in the four games he's played. The role he has performed under Mancini is the same- box-to-box.
Chelsea do have Ross Barkley and Mateo Kovacic, but both of them are practically vying for the position Hamsik played in for Sarri at Napoli. Consider Jorginho's position absolutely fixed and nailed in deeper midfield. If Barella comes in, he will give Kante stiff competition for his current position. Don't be surprised if he takes it away and makes it his own.