Why Genoa would prefer to sell Pellegri to Chelsea instead of AC Milan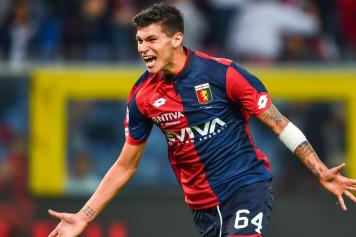 29 September at 12:35
Genoa wonderkid Pietro Pellegri is the darling of the January transfer market. Reports of interest in the 16-year-old range from Italy to England as potential transfer sums continue to increase.
According to a report in La Repubblica, the executives at the Ligurian club have decided to sell the striker in an effort to help settle the club's debts. At the moment, the three largest Italian clubs, Juventus, AC Milan, and Inter Milan, all have their eyes on him.
Juventus appear to be the most flexible in terms of striking up a lucrative transaction. Milan are enamored with Pellegri, but are apparently unwilling to cross the €20 million threshold. Similarly, Inter are eager to bring him to the San Siro, but, like their co-tenants, are unwilling to break the bank to do so.
For Genoa, the most desirable option is to sell him abroad; specifically, England. Teams in the Premier League have the ability to throw around much larger sums than most European leagues due to marketing and television revenues. Genoa is angling for a sale to London-based clubs Chelsea or Arsenal.
According to Repubblica, they are willing to spend €45 million
.
Matthew Klimberg