Why Giorgio Chiellini is the best defender in the world today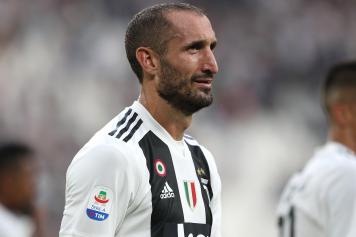 08 December at 13:10
Juventus' 1-0 win over Inter Milan yesterday wasn't just an indication of why Juve are so good and how they're so good, but it also proved why Giorgio Chiellini is the best centre-back in the world right now.
There can be multiple and mult-faceted arguments to prove why, say Diego Godin, Virgil van Dijk, Milan Skriniar, Toby Alderweireld or Kalidou Koulibaly, are better than Chiellini, but if there's anything that makes a player the best in his position, then it is consistency.
Chiellini is 34 and has been performing at this level for the last four or five years now. Be it for Italy, or for Juventus. While the failure to qualify for the World Cup was a dent, but it was more down to much more complex things that Chiellini or Leo Bonucci. What Chiellini is and has proved to be is a reliable defender, no matter who he plays with.
While the likes of Skriniar, Van Dijk, Koulibaly, Godin and Alderweireld maybe great defenders, one of the best in the world on their day. And they are one of the best in the list today too. But what separates them from Chiellini is not just his consistency, but his longevity and for how long he's been doing this. Godin comes close, in terms of for how long he's been that good, but Chiellini is the reason why Juventus are such a tough team to beat.
Against Inter, it was so typically Juve. After going a goal up, they dropped deep and defend. And Chiellini led them to a massive win. He defended almost everything that came his way. Like an armor for Wojciech Szczesny's goal. He's been doing this for so many years. And he's someone Juve fall back on to dig out games at will. To manage games when they're needed to be won in a pragmatic way.
Perhaps, Chiellini's tenacious style of play is something Juve are founded on. They know how to be dirty and they know how to win games without even playing too well. The leader that Chiellini is, he sets the tone for everything.
Perhaps, the game against Tottenham at Wembley last season defines it too. Despite conceding through Son Heung Min, Juve hung onto the game and after Gonzalo Higuain and Paulo Dybala scored twice in two minutes, it seemed as if it was left for Chiellini.
And he came up with a monstrous performance. The way he stopped Harry Kane's header from going over the line reflected how hungry and tenacious he is, even at the age of 34.
Every defender in the world needs a partner who can help him get the best out of himself. Be it Skriniar, Koulibaly or anyone. While Chiellini has been lucky to have very good defenders play alongside him, he's shown that no matter who plays alongside him, he always stands tall and takes everything under his umbrella of experience.
If not for Chiellini, Juventus may not have been the tenacious, tough to beat side they are. It all starts from the skipper. He might not be the fastest, but he knows how to get wins. And he's very complete. Jack of all trades, but a master of none.
For more transfer news and updates, click here