Why Juventus must sign Hirving Lozano at all costs – and how he'd fit in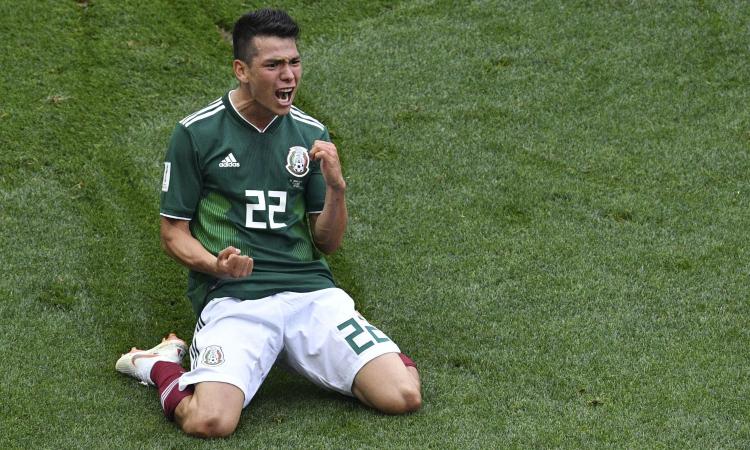 2018-23-06 - 23:00
Hirving Lozano got everyone worldwide talking on his World Cup debut when he scored the winner in Mexico's opener against Germany. For many of us, we have heard of Lozano's name for the past year, or even longer, and identified him as a truly top talent.
Part of PSV's Eredivisie winning team, Lozano, 22, is an electric winger, also able to be deployed as a central striker. With his lightning fast pace and pinpoint crossing, Lozano is a valuable asset for the attack of any team. So, with Real Madrid, Barcelona and Juventus all interested, the Turin-based club should make the first move – and secure a world class talent.
Why Juve should move for Lozano?
Firstly, Lozano is lightning fast and gifted with a ball at his feet. For this reason, he could play an important role in Juve's side, helping get balls in to Mario Mandzukic, Gonzalo Higuain or whoever lines up front for Juventus next season. Being versatile, Lozano could play in a number of different positions for Juventus and only continue to develop over time. At just 22, Lozano has a lot of time to grow and we will likely be considering him for the Ballon d'Or at some point within the next decade.
According to TransferMarkt.com, Lozano is currently valued at around €26m yet it is reported that he has a release clause in his contract of €35m. For that price, Lozano is a steal in today's market and would be a much cheaper alternative to Manchester United's Anthony Martial.
Furthermore, Lozano is a more complete attacker than Martial and is gifted in all areas of attacking play: finishing, dribbling, crossing, passing and pace. With Juan Cuadrado at 30 years of age and Douglas Costa approaching 28, Lozano would be a perfect move for Juve, with the future in sight.
How would Lozano fit in at Juve?
Lozano would likely feature on either wing in a 4-3-3 under Allegri, or as a second striker in the 4-3-2-1 formation that Juventus alternated with. Here, he would work with Paulo Dybala or Douglas Costa in supplying creative chances for Mandzukic or Higuain. Given the duelling ability of both the Croatian and Argentine strikers, Lozano's crossing would likely cause defenders all sorts of problems.
With his pace and dribbling, Lozano could create space for himself out-wide, either dragging defenders with him and setting up teammates, or fashioning chances for himself to go on and score. As he proved against Germany, Lozano enjoys cutting inside and taking on keepers himself, which should make him a hit in Serie A.
In all, Lozano is one of the hottest young talents and in a summer that looks to be full of big moves, if Juventus could secure his signature – they'd be bolstering their future prospects tenfold.
For more calcio features and news, click here.