Why Lionel Messi doesn't deserve to be in the FIFA Player of the Year shortlist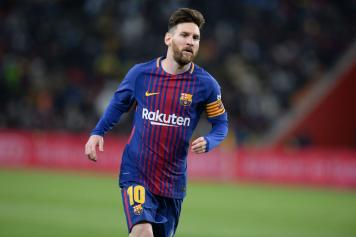 06 September at 19:05
When the FIFA Men's Player of the Year shortlist was released, there seemed to be a keen sense of surprise and intrigue among football fans about it. The reasons were quite obvious. The man is often known as the greatest footballer of all times was excluded from the list, with his arch-rival, a man who plays football similar to him and a gem of a midfielder in it.
FIFA's decision not to hand Lionel Messi a spot in the shortlist has been met with stern criticism from many. It is obvious that criticism of that level was certainly coming after someone as good as the Argentine was snubbed from the shortlist, but it somehow seems like a very fair selection from FIFA.
Before you go further, remember that Fabio Cannavaro had won the Ballon D'or accolade back in 2006 when the likes of Gianluigi Buffon and Thierry Henry were on the list. Buffon was Cannavaro's teammate when the Azzurri had won the FIFA World Cup in 2006, while Henry's dazzling performances for Arsenal had helped the Gunners to a place in the UEFA Champions League final of 2006.
One reason why Cannavaro won the award back then was not because of his towering performances at the back for Italy, but because of how he knew how to lead a team of individuals to a historic World Cup crown. Italy had not reached the quarter-finals of the 2002 FIFA World Cup and had finished third in their group during the 2004 Euros. The aura around the Azzurri national side seemed to suggest that it was a team of individuals which were far detached from each other, in terms of wavelength. And when the 2006 World Cup started off, Italy were hardly considered the favorites. But Cannavaro had stepped up to the plate to unite them under a single flag- for a single notion, to win the tournament.
And Messi is a terrific player and he certainly is the best player in the world, in terms of ability on the ball and skill. But that only seems like a statement made on paper.
Another example of how things on paper don't work in football is how Tottenham Hotspur were sometimes called the best team in England before Man City started dominating things in England. Spurs played breathtaking football and could beat any team in the world on their day. It was believed by many- just like how many believe that Messi is the best player in the world. But much like Spurs, Messi has nothing to show for it.
The Argentine national side reached the Round of 16 of the FIFA World Cup by the skin of their teeth. And France hammered them 4-2 in the first knockout phase. Messi could score only one goal in the whole tournament and while it is a pity to see him carrying the burden of a disfunctional Argentine side, his credentials will be judged on whether he was able enough to lift the team above everything else and whether he could take them forward, either by being the standout best player on the pitch or by motivating them the way Cannavaro did in 2006. Messi could do neither.
Barcelona did win the La Liga very comfortably last season and Messi did well to help the Catalans do that. But winning the La Liga can't really be taken as a decisive parameter for determining Messi's candidature for the shortlist. Especially when players like Mohamed Salah, Cristiano Ronaldo, Luka Modric and even Antoine Griezmann achieved big feats on a more global level than Messi did. All that at a time when Barcelona got knocked out of the Champions League in the quarter-finals, thanks to a memorable comeback from Eusebio di Francesco's Roma.
More so, football has come to a point where there is a massive need for the game to emerge out of the duopoly of Messi and Ronaldo. People want the duopoly to end and new trends to emerge. To live upto those expectations, both have to come up with out of this world performances that are much more impressive than they have ever been. The demand for excellency from both of them have increased.
When Ronaldo has lived upto those much more lofty demands, Messi has not. Its a simple demand and supply rule that gets applied here. The demand for excellency from fans has increased and the supply for it from Messi and Ronaldo should increase as well. Whoever doesn't supply it well, will fall short of their expectations. Messi clearly has.
Kaustubh Pandey (@Kaus_Pandey17)