Why Man Utd should not consider Conte as Mou successor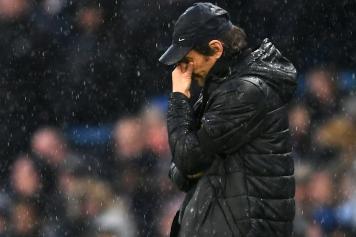 29 August at 18:55
While Jose Mourinho is still the Manchester United manager, he isn't expected to stay in charge beyond the end of this season. Not because it isn't meant to be but whenever he rants out at the media the way he did after the loss to Spurs and everytime his relationship with the board breaks down, there is only one.end. And it's a very familiar one indeed for him.
Something similar happened with him at Chelsea. Although the fans were on his side all the way, but Jose had fallen out with the management, the board and he had lost the dressing room as well. He isn't completely to be blamed for that though, as his successor Antonio Conte suffered a similar fate following discrepancies with the board.
Following his sacking this past summer though, Conte is currently without a club. The easiest thing for the media to do at these times is to link him with United, who could soon be without a manager. If United do make that decision, it won't ever go down well with either the supporters or will the performances on the pitch make too much difference.
The manner in which United have appointed managers after the retirement of Sir Alex Ferguson follows a pattern. There has been a constant appointment of managers who have hardly promised a playing style that defines the club- defines the way the club has always played and has taken pride in.
David Moyes could hardly muster a style during his stay and was axed well before he could find one but was still deemed defensive, just like how his Everton used to be. More pragmatic than attractive. Louis van Gaal's style was certainly possession oriented, but it came to a point where it became drab, predictable and there was a lot of sideways passing involved. A style like that can never find a place at a club like United, where playing attacking football has always been a trend. And even before the likes of Moyes and Van Gaal, United have sacked managers for not playing football that is attractive or pleasing on the (check Dave Sexton).
The case of Mourinho is quite the same. I remember writing one feature about why Mourinho won't go down well with United before he was appointed and I believe it was a fair criticism considering how defensive football has never had a place at Old Trafford. A part and a reason for the current crisis at United is that the way Mourinho's side plays hardly appeals to any United fan. It might be result oriented but it hardly lifts one off the seats. It is deemed negative and unfit for a club that has a culture for attacking football.
Here is where the argument about Conte not being a United-esque manager comes in. His stint at Chelsea was amusing. But the style of football he professed there or at Juventus was hardly the way United would want it to be. It was defensive minded and involved the sides playing an extra defended in a 3-4-3/3-5-2 shape for extra defensive cover. It was pragmatic and effective a lot of times, but Mourinho's style has been the same. But that hasn't been enough to satiate United fans.

More so, the Old Trafford faithfuls are well aware of how Conte's tenure at Chelsea ended and that won't do any good to the aura around the club, which will be negative once Jose goes.
It isn't just because of that though, that Conte won't be a success. It is because after having three managers who hardly brought to the plate a progressive style of football, United fans really want a change in how they approach games. They want a young, bright manager who can define what the club is about heading into the future. They would certainly want someone like Mauricio Pochettino, but the Argentine isn't budging from Spurs.
The club is heading into a period where it has to become the face of football once again. The club's fans would hardly want the next manager to be someone who professes a style of football that reminds them of times of struggle after the Sir Alex era. They would want something fresh- something that lifts them off their seats and forces them into watching their sides play instead of forcing them to doze off during games. Something that brings positivity into the faces of the fans and makes them dream, heading into a new era.