Why Tottenham are the favorites against Arsenal at Wembley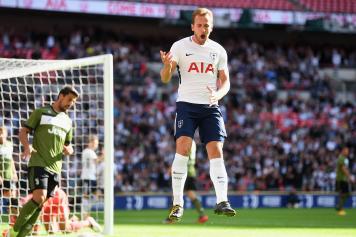 09 February at 15:00
The North-London derbies are always feisty affairs. They never let you down, in terms of entertainment and action. And when Tottenham and Arsenal will lock horns at Wembley on Saturday, it will be another massive game in the history of the rivalry. A win for Arsenal brings them closer to Spurs and to the top four and a win for Mauricio Pochettino's men could lift them into third, depending on how results elsewhere pan out.
With a lot of talk surrounding the brilliance of Henrikh Mkhitaryan and Pierre-Emerick Aubameyang following their scintillating debuts against Everton, we are seemingly getting lost in a case of Arsenal's trademark. It is so usual to see Arsenal win a game, enthrall every single fan in the world because of it and get embarrassed in the very next game. While the talents on the pitch are undoubted, we are still failing to realise that Arsenal's defense is still the same as it was. They haven't strengthened defensively in January and as usually, Arsene Wenger has laid too much emphasis on attack rather than defense.
And while there may be a lot of optimism surrounding the club heading into the game against their fierce rivals, its something we have seen before.
Pochettino's men are on a high. They came up with impressive showings against Manchester United and Liverpool and while they'd have to be wary against the Gunners, it is still in their favor. Pochettino confirmed that Toby Alderweireld will be back fit for the club on Saturday and that comes as a massive boost, considering how good Arsenal's attack is.
The thing about Tottenham at Wembley has been simple. The small side defend deep, frustrate them and make them struggle to score. The big sides make it easy for them to score because they play a more open game. That's the reason why sides like Real Madrid, Borussia Dortmund, Liverpool and Manchester United have already taken a battering against Spurs at Wembley. They might've struggled at the same pitch against the likes of Brighton, Burnley, Swansea and West Brom, but they find it tough to break these sides down because of the way they defended and refused to make it an open game.
The reason why Chelsea beat Spurs at Wembley was because Antonio Conte had refused to play an open game. They had resorted to defending deep after Marcos Alonso scored the opener. That costed Spurs.
And when was the last time Arsenal played that way? Wenger's side are known for always looking to use the aesthetic way out to play and that has always left the defense open to attacks. And it would be fair to say that the defense has let them down time and time again. They may boast of an impressive forward-line but they are coming up against a defense that arguably been the league's best since the last two seasons. And Spurs have an attack that is one of the best in the league on the counter. That's how they managed to beat Real, Dortmund, Liverpool and United.
With Alderweireld fit and Vertonghen impressing the last two big games, Spurs are back to full strength and the way it is set up, it could be played right into Pochettino's mens' hands on Saturday.
Kaustubh Pandey(@Kaus_Pandey17)