Why Zola is the most loved assistant coach in the EPL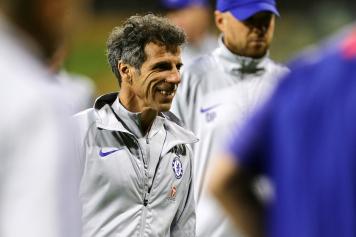 10 August at 19:00
He scored 80 goals and won six trophies in his seven seasons with Chelsea, yet records do not define what this man has done or why he was voted Chelsea's greatest player ever back in 2003 writes Ramez Nathan.
Hundreds of words could be written about how Gianfranco Zola was a pivotal point in filling Chelsea's trophy cabinet, many hold mental pictures of his divine back-heel against Norwich, others remember the phenomenal lob that marked his last goal against Everton, however these trophies and moments of brilliance do not speak enough of this ethereal being and how he irreversibly changed the history of the Blues.
The 5'6 Italian moved to Chelsea at the age of 30 back in 1996 and according ESPN's Gabrielle Marcotti he wasn't considered a threat by many of his opponents: "A number of clubs viewed him as the little man, they considered him too small or not strong enough to play in the Premier League."
To the surprise of many English spectators, the unyielding desire to succeed that little man held in his heart was enough to pave his way in their country, size to him was never a problem at all.
Zola might have not been the typical tough and aggressive forward but his low centre of gravity and that graceful and elegant style of football caused nightmares for the English defences.
To describe Zola's approach for the game, these were his very own words: "As a player the best advice given to me was to live each match as if it were a party, to be relaxed and cool. That way I was free to run with my creativity."
The Magic Box did not just take part of parties in the Premier League, he was the centre of each of them and boy did the fans in blue have a bash watching him every week.
With his slaloming runs and incredible sleight-of-foot, Zola invited defenders to assume nothing and left them staring at his boots, up until he unleashed his masterpieces of beauty in the back of the net for everyone to be bewildered by his art.
What distinguished the no 25 more than any player in the Premier League was his intelligent movement, he was roaming wherever he saw fit and signified the creative influence Chelsea have been crying out for.
Ryan Giggs once said: "Gianfranco Zola was the only player Manchester United routinely man marked," he ran all over the pitch and was like an illusionist with that touch of magic that puzzled every manager he faced even the greatest of them all Sir Alex Ferguson.
He always had more than meets the eye, turning a previously mid-table side that failed to grab a single title in 26 years to a major force in the Premier League, he turned Chelsea into something attractive, a team football fans would love to follow and through all his years with the Blues, they didn't finish outside the top six once.
Bleacher Report's Alex McGovern shared his memories of one of his favorite heroes as kid with Calcio Mercato: "As a kid growing up loving football in the 1990s Zola was probably my favourite player, he brought a smile and magic to the pitch more than anyone else I watched. He made football fun. I think his small stature too, among the big burly Premier League defenders, made you feel as a kid that you could do it as well."
"Looking back now, his impact was bigger than that, he helped Chelsea and the Premier League become the multicultural modern entities they are today. And through his cultural impact, on the pitch ability and mentoring of John Terry, Frank Lampard & co., he really helped set Chelsea up for the most successful period in their history," said the Chelsea fan.
Iconic names represented Chelsea in the recent era and they landed the big fat titles Zola couldn't reach, but the question is, would have Roman Abrahimovic bought Chelsea if the Italian hadn't changed the phase of the club during his seven years at London?
What made the former Napoli player stand out the most was his attitude, he never acted like a mega star, always stayed humble, never got sent off the pitch and the way he smiled provided joy to everyone he saw even his biggest rivals.
Southampton legend Matt Le Tissier once said: "He had a great attitude towards the game, I don't remember him being booked too many times, he never used to hassle the referee like I did and he had a wonderful way of playing, I think that is why they're not just the Chelsea fans but all the football fans in the Premier League kind of loved him and he was an absolute diamond of a fella."
This man was the reason I personally fell in love with Italian football, forced my dad into subscribing for the Abu Dhabi channel, the only way to watch Serie A in the Middle East back then and I believe anyone would want to count themselves lucky at having lived through an era in which Zola graced the football pitch.