Will Gattuso be Milan's next 'Disposable Hero'?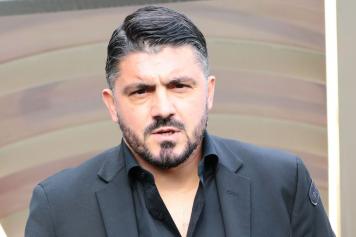 05 December at 13:15
On the heaviest track off "Master of Puppets", James Hetfield sing, or more accurately yells, about soldiers being "Disposable Heroes"
essentially born to be sacrificed in war. As I was listening to that album in the gym while trying to work off all the food I ate during my trip to Italy
, I had a realization- that specific track can also be used to explain Milan's approach to their former stars.
This epiphany was reinforced when after his debut match on Milan's bench,
Rino Gattuso stated that getting stabbed would have been less painful than seeing Benevento
, who had yet to even get a point this season, score the equalizer in stoppage time off a header from their keeper no less. While it's best not to overact to just one match, the way the game unfolded is certainly not a good omen for Gattuso being able to succeed in the role where both Seedorf and Pippo Inzaghi previously failed.
But while each manager is different, and it's a bit premature to assume Gattuso won't be able to turn things around, what is consistent with Milan is their constant knee jerk reaction to look to their glorious past when having to deal
with the disappointments of the present. While this approach is harmless and understandable
when it's taken from the club's fans, it's beginning to lose effectiveness when it's coming from the club's owners and management.
Since Ibrahimovic and Thiago Silva's departures, the rossoneri have really struggled to get back on track- and while many expected that new ownership
would be able to turn the page quickly after a pharaonic summer transfer window
, the results continue to be the same. But one thing that hasn't changed is the approach of looking to the past the minute things turn for the worse in the present.
Right after new reports emerged raising doubts on Milan's new owners, Ricardo Kaka' was invited to Casa Milan to be offered a role within the new management team. While this was almost
certainly a coincidence, the optics were undeniable- a cynical person would certainly be able to say this could be seen as a distraction to shift the focus on something more pleasant.
​While visits from former players get quickly swept aside by the torrent of the constant news cycle, the appointment of managers have long term implications for clubs. Since Allegri's sacking,
Milan have now looked to three of their former legends
(plus Cristian Brocchi) with very limited management experience to somehow turn the corner.
​When you decide to appoint someone with this profile, you have to sell their "brand" as former players to the fans since there isn't much else they can base their expectations on. Clarence Seedorf was appointed because
he was expected to bring a much more cerebral approach to what had taken place under Allegri
, and while Clarence Seedorf struggled to get consistent results on the pitch, he at least was trying to change the culture at the club.
He clashed with many of the senators that were close to executive director Adriano Galliani, leading to leaks to the press on the Dutch manager being late for practices and not fully engaged, but what is undeniable
is that Seedorf pointed out that the problem wasn't so much the coach but rather the players on the squad- he was right.
But the Dutch manager being insubordinate to Berlusconi and Galliani proved to be fatal- once he violated the club's policy by doing an unauthorized interview to one of Mediaset's rival networks, he was doomed.
Just like Brocchi and recently Gattuso, Pippo Inzaghi was promoted from the Primavera to oversee the senior squad. The former Azzurri striker was supposed to bring a more offensive style while also being able to get the most of his players' limited abilities just like he did in his playing days, the results w
ere rather modest which led to the appointment of the more feisty Sinisa Mihajlovic, who was hired over Maurizio Sarri
in part because of Napoli's now manager left wing leaning political beliefs.
​While the now Torino manager at least launched Donnarumma and was instrumental in acquiring Romagnoli, he was eventually replaced by Christian Brocchi- the only thing I remember from his time managing Milan's senior squad was that very awkward Nivea commercial they did where the players looked like they were imitating New Zealand's rugby team pre game routine.
You would think that after the Seedorf and
Inzaghi experiments there would have been more consideration put into perhaps finding an established manager to replace Vincenzo Montella,
but Ancelotti didn't even get a phone call (a fact he confirmed on the last edition of Domenica Sportiva) and Mazzarri was never really on Fassone and Mirabelli's radar.
Instead Milan's new directors decided to go with Rino Gattuso whose resume as a manager can be described as a uneven as a David Lynch film if you're trying to be generous. Sure many Milan fans latched on to the fact
Gattuso would bring his trademark grinta and determination to his new players- but in his last coaching stop at professional level,
Gattuso's team Pisa only score 23 goals in 42 matches, not exactly a great track record considering how much Milan has struggled to score in Serie A.
Don't get me wrong, I don't mean to pick on Gattuso who was in a very difficult position at all of his previous managerial jobs, I'm just disappointed by this cynical approach to sacrifice a former club legend to try to bring some temporary excitement to Milan- but at least not everyone has fallen in this trap.
​Two of the clubs' former icons, Paolo Maldini and Carlo Ancelotti, decided to not be used as pawns. Maldini wanted to get to know Milan's new owners and have a significant role in the management team rather than just be portrayed as someone who endorsed the new regime by agreeing to come for a mainly public relations job,
while Ancelotti turned down Berlusconi and Galliani after being sacked at Real Madrid
because he wasn't fully convinced by their project.
I hope you pardon my cynicism and more importantly I would love to see Gattuso prove me wrong and go on to follow in
Fabio Capello's footsteps
- but I fear he's more in line with what James Hetfield described in "Disposable Heroes":
"Victim of what said should be
A servant till I fall
Do just as we say
Finished here
Greetings, death
He's yours to take away"
Milan legends deserve better…
Dedicated to Alberto Fagari
David Amoyal