Will Juventus use Aaron Ramsey as a regular starter?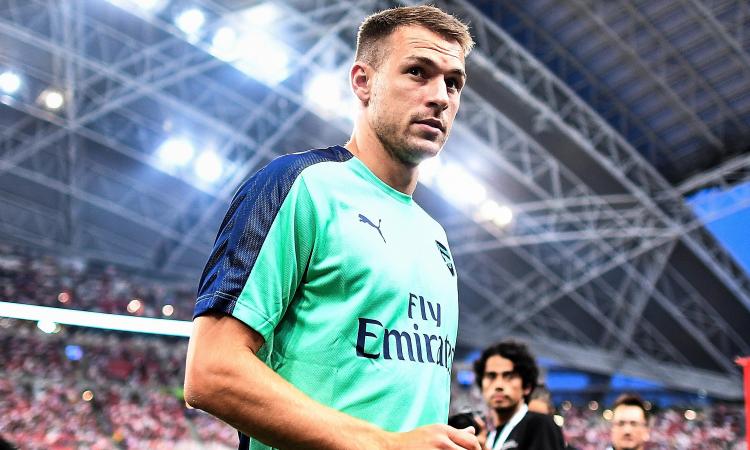 2019-04-01 - 14:10
When news about Aaron Ramsey not extending his contract with Arsenal and prefering to leave the Emirates next summer on a free transfer broke out, it was clear that interest in him will be huge. While Juventus have all but sealed his signature, the likes of Bayern Munich, Inter Milan and Paris Saint-Germain were in for him too.
The bianconeri are the masters of making the most out of free agents, no matter what their age is. Be it the way they signed the likes of Kingsley Coman, Paul Pogba, Sami Khedira and Emre Can or tried to get Leon Goretzka before Bayern signed him, Juve have done it again with Ramsey's free signing.
But what is different between Ramsey's capture and that of the others in the past is that its very unclear as to where the Welshman will play under Max Allegri. What he brings to the table is something very few midfielders in Europe do, let alone the Juve midfielders.
He likes going beyond the striker by making late runs into the box and by often operating as more than an attacking midfielder. He doesn't have as much work-rate as Blaise Matuidi. Neither is he a deep-lying playmaker like Miralem Pjanic, nor is he a box to box midfielder that Sami Khedira often plays as. He adds more variety to the bianconeri side.
While Ramsey can operate in a box-to-box role, he has been found wanting in that regard at Arsenal. He likes operating in a role where there is no demand to track back and defend. He likes the freedom to make runs around the striker- getting in areas that a striker or a second striker would often like to play in. That is one aspect of his play that allowed him to make attacking contributions at Arsenal.
But for a system that Juve play in, Ramsey shall not expect to be a starter. The bianconeri rely heavily on tracking back when they lose the ball and that is the reason why they want their midfielders to have a tremendous work-ethic on and off the ball. The 4-3-3 shape sees their forward players stay forward, but the midfield players track back as soon as they lose the ball. That's exactly why they rely so much on the workrate that Matuidi brings to the plate.
Ramsey though, isn't someone who is adept at doing the dirty work. The lack of those kind of players was the reason why Arsenal always had a problem of not having enough numbers on the counter-attack and having a weak spine. The Welshman gets caught napping when tracking back and fails to take complete hold of things while doing the dirty work.
He is 28 and probably at the peak of his powers. But one special thing about the way Juve play is that they can change players even when they aren't the peak of powers. It always seems unlikely on paper for Ramsey to change his style, but it can happen.
It is Paulo Dybala though, who should be more concerned about Ramsey's arrival. The Argentine relies on space around the striker to be at his best. While Ramsey can't play in the same position as Dybala, the positions they take up are very similar a lot of times. And Dybala will not like playing with Ramsey in the same side.
All in all, it seems unlikely that Ramsey starts as regularly as Matuidi or Khedira. He isn't the sort of player who can play as regularly as them because of his work-rate and playing style. Not as early as next season, atleast.
For more transfer news and updates, click here